Achievements
AU Celebrates Eighth Truman Scholar in Six Years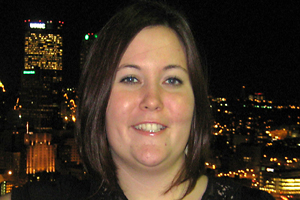 Kelsey Stefanik-Sidener, a junior political science major with a minor in communication, has been named a 2010 Harry S. Truman Scholar. 
The Truman Scholarship, a federal memorial to our thirty-third President, provides up to $30,000 toward a graduate education leading to a career in public service, as well as leadership training, career and graduate school counseling, and special internship opportunities. Kelsey is one of 60 Truman Scholars selected from a nationwide pool of 576 candidates.
With support from the Truman Scholarship Foundation, Kelsey intends to pursue graduate training in law and public health in preparation for a career in health law, communications, and advocacy. Her long-term interest is in using the law and public policy as tools to address problems that diminish health outcomes. Her work as a federal affairs intern with the American Diabetes Association, where she interviewed victims of health care and employment discrimination, contributed to this goal.
Both on and off campus, Kelsey's efforts to support Americans suffering from chronic disease have been extraordinary. Since first grade, when she was diagnosed with type 1 diabetes, she has devoted well over 1,000 volunteer hours and raised more than $55,000 to support efforts to find a cure. She has been indefatigable, assembling teams for fundraising walks, organizing sneaker sales, selling pizza door-to-door, and even lobbying business executives to take up her cause. At AU, Kelsey founded a diabetes advocacy group and has served as the director of student health services for the American University Student Government. Through her service work as an AU student, she has continued to fundraise to support juvenile diabetes research, supported the District of Columbia's efforts to raise awareness of the H1N1 virus, and opened discussions with our food and dining services staff about the nutritional information available to diners in the Terrace Dining Room, AU's main dining facility.
An exceptional scholar, Kelsey has maintained a 3.9 grade point average while pursuing a curriculum that combines courses on domestic politics, public health, and communication. She is the recipient of a 2010 American University Undergraduate Research Scholarship to study the way in which the media "frames" debate on diabetes and chronic disease in general. She is also a member of the University Honors Program and the School of Public Affairs Leadership Program.
Truman Scholars were elected on the basis of leadership potential, intellectual ability, and likelihood of 'making a difference.' Margaret Marr, director of the SPA Leadership Program and one of Kelsey's mentors, believes the selection panel chose well. "Kelsey is an exceptional student, deeply committed to improving the human condition," Marr said. "She is a joy to work with—bright, articulate, disciplined, and genuinely empathetic. These traits destine a path of great influence." Christopher Jacobs, an adjunct faculty member in the University Honors Program, and James Callan, a member of AU's alumni board, also mentored Kelsey.
Each U.S. college or university may nominate up to four students per year for Truman Scholarships. Both of AU's other nominees, Lauren Barr (SIS/CAS '11) and Emily Pfefer (SPA '11), were named national finalists. Lauren's mentor was Professor Robert Pastor and Emily's mentor was Dean Margaret Weekes. American University was one of thirteen universities in the country to have three finalists in 2010.