Journalism
American Forum: Changing Nature of Washington Press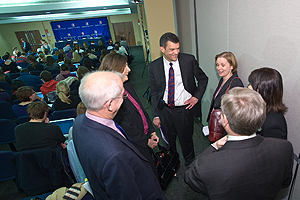 That the shape of the Washington press corps is changing is unquestionable. Just what that means for readers, viewers, and the state of American democracy is much less clear.
The American Forum, "Washington Watchdogs: An Endangered Species?" explored the issue through the eyes of four accomplished journalists during an hour-long discussion broadcast live Feb. 17 on C-Span and WAMU 88.5.
"Historically it has fallen to Washington reporters to explain the workings of the federal government to Americans," said moderator Wendell Cochran, a professor in the School of Communication, which sponsored the event. "The number of newspapers with Washington bureaus has declined by half since 1995. Today there just aren't as many reporters to do that job. As one editor put it, 'The cop has left the beat.'"
The study Cochran was referring to was done by former Los Angeles Times reporter Tyler Marshall, for the Project for Excellence in Journalism. While it found that staff levels at mainstream media outlets in Washington declined sharply, it also reported an increase in the size of the so-called "niche" media, and a large jump in the number of foreign correspondents covering Washington.
"For years and years [reporters] began with the niche publications and then would aspire to join a daily newspaper or magazine," Marshall said. "As the mainstream media has dwindled and the niche media has grown, this migration has reversed. This raises questions about how well our citizens are informed."
Mark Whitaker is Washington bureau chief and senior vice president for NBC News. A former Newsweek editor, he's seen the changes in the Washington press corps firsthand, from different mediums.
"There's no question the mainstream media is under increasing financial pressures," he said. "When you have less money to spend you do have to look at ways to cut back. I do think it's been offset by the availability of information to anyone who has an Internet connection. The one thing I do worry about is the decrease in experienced reporters. A lot of the great investigations that have been done started with a whistle-blower. In order for confidential sources to talk to you, you need trust, and trust has to be built up over a long period of time. The danger is in less information being available."
Covering Washington without being in Washington just doesn't work, said Suzanne Struglinski, bureau chief of the Salt Lake City-based Deseret News until it closed in July. Watching a webcast of a congressional hearing from back home isn't the same as sitting in the committee room and grabbing the elected official for an interview when they leave the chamber.
Regardless of whether readers are clamoring for this kind of local-based Washington coverage, newspapers are continuing to cut back in the face of falling revenues.
"The business model is collapsing around us," Marshall said.
The rise of free content on the Internet certainly has hurt newspaper sales, but a larger factor may be the shift to the Web of industries such as classified and employment ads, once solid revenue streams for newspapers.
"Journalists liked to think all these years [people] were buying it for the content, but they also were buying it because it was a very efficient marketplace," Whitaker said. "Now, there are other ways for that business to be transacted."
"As journalists we got paid because we could fill out the content around the ads," Cochran said.
The talk wasn't all doom and gloom. Melinda Wittstock, founder and CEO of Capitol News Connection, spoke about her organization's growth from an original staff of three serving 10 public radio stations to a staff of 12 serving 220. Whitaker believes there's more room for entrepreneurship in the world of Washington journalism today than at any time before.
"You don't have to go to a local TV station or newspaper and slog away for 10 to 15 years," he said.
Marshall agreed.
"I think that the Internet is actually adding jobs in the short term. For most newspapers in the United States, the only area of growth has been for Web-related work."