Alumni
Getting into the Job-Searching Groove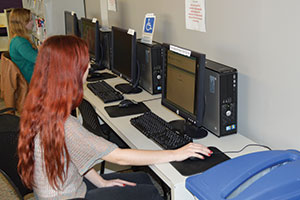 Career Center advisor Marc St. Hilaire has an unprecedented suggestion for students looking to start their job search: approach it hygienically.

"It should be an everyday kind of thing, in the same way that you get up every day and brush your teeth," says St. Hilaire, who advises graduate students in the School of International Service.

Because it can take anywhere between three and six months for a graduate with a bachelor's or master's degree to land an entry-level position, alumni should begin perfecting their materials now, advisors say.

MORE: Resume and Curriculum Vitae (CV) Preparation

What each alumna or alumnus should do is create a personalized attack plan, a schedule of job search-related tasks that they carry out every day. A good way to start is to brainstorm the kinds of positions that you want to apply for and then draft cover letters that emphasize the skills required for the position, according to St. Hilaire. In person, joining a networking group in one's field can be an opportunity to have your name and face known in your industry, he adds. Examining your presence online can also be useful, says Felicia Parks, career advisor for students in the School of Communication. Joining LinkedIn alumni groups or mimicking the profile structure or layout of those in the industry you want to break into can be good strategic moves, Parks says.

"A lot of students [incorrectly] think it's about connecting with as many people as possible," Parks says of LinkedIn. The website can function, however, as a one-stop shop for your work, allowing you to include writing samples, examples of projects you've worked on, and detailed references. "It's not only a resume; it's a business card working its way to the right person," adds Parks.

For alumni pursuing jobs in journalism, communications, or public relations, creating an online portfolio and becoming familiar with various social media tools—such as Instagram, Tumblr, and Prezi—can also be a beneficial way to show employers that you're staying current with online trends, Parks says. And alumni with backgrounds in any field can use online communities or message boards to research companies or jobs they're interested in.
MORE: Branding Yourself Online

Try to "have a touchpoint," Parks says, referring to a specific connection between the job seeker and the employer. "When you send in a resume and [the employer has] no idea who you are or where you've come from or why they should consider you, and they're using an electronic system, your resume may not be seen. But if you have it sent in with a referral or you exchange business cards with someone or meet them at a job fair, that touchpoint goes a long way."

After your materials are in order, you should regularly peruse job sites and broaden your range to include jobs for which you are slightly overqualified, says St. Hilaire: If a job listing specifies three to five years of experience and you have six or seven, go ahead and apply. And if a job is not directly in your concentration but applies to where you have focused your volunteer or internship work, take a chance and craft your materials to demonstrate how you would flourish in that position, agrees Parks. And be discerning about your choices.

"In people's anxiety about not having a job, they apply to everything—and sometimes it doesn't make sense to apply to everything," St. Hilaire says. "Rather than sending 30 resumes a week to different jobs, really identify maybe 10 jobs that you are uniquely qualified for."

Since finding those employment openings can be tricky if you're using the same websites as countless other job-seekers, make AU CareerWeb one of your first resources, says Julie Jones, assistant director of employer relations for the Career Center. Employers post full-time jobs on the database—more than 4,000 annually—because they are specifically looking for AU students or alumni.

"Every month, we have new positions coming in that students can apply to," says Jones. AU CareerWeb allows students to sort listings with about 10 different options, as well as receive email alerts when specific positions are posted. "With AU CareerWeb, the candidate pool is much smaller, so your chances of getting at least an interview are much higher."
MORE: Opportunities and Resources on AU CareerWeb

Remaining true to your passions, education, and experience are important, too, Parks says. The more you work on your applications, the more confident you'll become in the process—and it will ultimately pay off.

"If there's a way to reinforce that you have great skills and to stay positive through this process, find that reassurance," Parks says. "Stay passionate about what you're looking for and it will come."
The Career Center offers lifetime career services, and AU alumni are encouraged to contact the Career Center to schedule an appointment with an advisor.