WAMU 88.5 Legend Ed Walker Inducted into National Radio Hall of Fame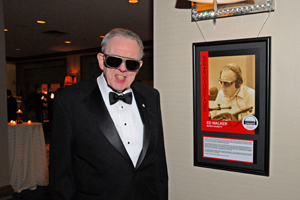 Ed Walker, SOC/BA'54, Washington radio legend and host of WAMU 88.5's The Big Broadcast, was inducted into to the National Radio Hall of Fame in the category "Local or Regional Pioneer." Walker was one of four nominees in his category and one of 16 nominees on the 2009 National Radio Hall of Fame ballot, which was voted on by the public in an online election in July.
"This is the culmination of a lot of years in broadcasting, and I'm very grateful," said the 77-year-old Walker. "It hasn't really sunk in yet, but thanks to everyone for the support. It's a great honor to be recognized by all the people who have listened to radio over the years."
As a child, Walker dreamed of a career in broadcasting. By age 10, he was operating a low-powered radio station in his basement. Walker's professional radio career began in 1951 as an American University freshman and one of the founders of WAMU-AM, the campus radio station that preceded the current FM station, WAMU 88.5.
The same year, Walker met fellow AU student Willard Scott, CAS/BA '55, who soon became his good friend and radio partner. In 1952, the pair started a weekend radio show at WOL called Going AWOL, and, in 1955, they launched the comedy show Two at One at WRC and became the "Joy Boys" - a nickname that stuck when they used a song of the same name as the show's theme music.
In the late 1950s, the Armed Forces Radio and Television Service began broadcasting many of the half-hour shows, which brought the Joy Boys to service members around the world. The program continued in various time slots and iterations on WRC until October 1972, when WWDC added the show to its schedule. WWDC aired the last Joy Boys show on July 26, 1974. Walker has also worked at radio stations WPGC and WMAL and television stations WJLA and News Channel 8.
"I am thrilled that Ed has been elected to the Radio Hall of Fame," said WAMU 88.5 General Manager Caryn G. Mathes. "He is a legend in Washington radio, and this is a richly deserved honor."
In December 1990, Walker returned to WAMU to host The Big Broadcast. He was asked to take over the station's longest-running program from his friend, John Hickman, who was ill. The Big Broadcast features a collection of vintage radio programs from the 1930s, '40s, and '50s, including Gunsmoke, The Jack Benny Show, The Lone Ranger, and Fibber McGee and Molly. The show, which airs from 7 p.m. to 11 p.m. Sundays, has been a weekly feature on WAMU 88.5 since Hickman created the show in 1964.
Other 2009 inductees to the National Radio Hall of Fame include Dr. Demento and Studs Terkel.
WAMU 88.5 is the leading public radio station for NPR news and information in the greater Washington, D.C., area. With more than 725,000 listeners in the region, WAMU 88.5 is "your NPR news station in the nation's capital." WAMU broadcasts three HD channels - the flagship frequency at 88.5-1; WAMU's Bluegrass Country, a bluegrass and Americana station, at 88.5-2; and WAMU-3 at 88.5-3, a news and information station broadcasting international coverage from the BBC and offering public radio programs unavailable elsewhere in the Washington area.