Communications
Metcalf Helps SOC Students Thrive in D.C.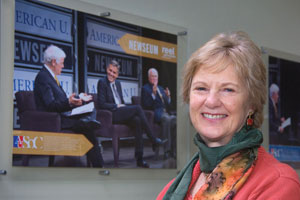 The white board that hangs in Sharon Metcalf's office can barely contain her to-do list.

As senior director of strategic partnerships and programs, Metcalf has her finger on the pulse of the School of Communication (SOC). Every collaboration, conference, screening, and event—of which there are hundreds each year—makes it on the board.

"It's rare that I leave here before 9 or 10 at night, because there's always something going on," she said. "There's the Environmental Film Festival on Tuesday, the Baby Boomer Fest on Wednesday, the Human Rights Film Festival on Thursday.

"I try to plan my calendar in advance," she laughed. "That helps."

Metcalf, who came to AU two years ago, manages and nurtures SOC's 50 partnerships with such media organizations as the Washington Post, Gannett, NBC, the Associated Press, and USA Today. Sometimes those partnerships spawn events—SOC is among the sponsors for this week's Online News Association Conference, the largest gathering of digital journalists in the country—and other times those connections lead to internships and bylines for students.

"It's like that old real estate credo: location, location, location. We are in a position to place students in a way no other university can," explained Metcalf, whose pedigree includes NBC News, ABC World News, and the White House press office. "We've got one foot in communications and one foot in Washington."

SOC's newest partnership is with Allbritton Communications and TBD.com, a D.C.-based TV news station and Web site headed by Jim Brady, SOC/BA '89. TBD and SOC have teamed up to host free blogger workshops at the Wechsler Theater every Saturday, and next semester AU students—selected through the new SOC Dean's Internship program—will work at the TBD newsroom, reporting and working on social media and Web production.

"Our students are the future of communications," said Metcalf, herself a graduate of SOC's public communication master's program. "One of the great joys of my job is opening doors and creating opportunities for them to succeed."

When she's not in the office, SOC is never far from Metcalf's mind. An accomplished chef who hosts healthy cooking classes in her home on Sunday mornings, Metcalf "loves to prepare huge pots of food for friends and pre-screen films we feature in our festivals."

"Nick Clooney [Newseum distinguished journalist in residence] will come over and we'll watch the Reel Journalism films to formulate questions," she said. "It's a lot of fun."

Exercise is also high on Metcalf's to-do list. She bikes the three miles to work at least twice a week.

"I live downhill," she laughed. So after a very long day in the office, "I coast home."