Alumni
Meet AU's Brightest Stars - the 2010 Alumni Award Winners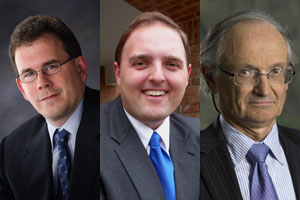 The American University Alumni Board and the Office of Alumni Relations are pleased to announce the recipients of the Alumni Association's 2010 Alumni Awards. Selected annually from nominations submitted by faculty, staff, and AU alumni from around the world, these three awards are the highest honors presented to alumni by the Alumni Association. This year's recipients are truly outstanding and epitomize the type of high-achieving, philanthropic alumni of whom the university is so proud. The 2010 Alumni Award winners are as follows:
Alumni Achievement Award - James M. Brady, SOC/BA '89
The Alumni Achievement Award recognizes alumni who have distinguished themselves through their professional accomplishments.  
Jim Brady is president of Digital Strategy for Allbritton Communication, the parent company of Politico. He assumed this position in October 2009 and is responsible for overseeing the conception, development, and launch of tbd.com, a new local news site for the Washington region. Previously, he served as the executive editor of washingtonpost.com. Brady has a background in print journalism, having served as Washington sports correspondent for UPI and sportswriter for The Washington Post. He held executive director and vice presidential positions at AOL, and was an editor during the original launch of washingtonpost.com. He has continued to be involved at AU as an SOC Alumni Ambassador, mentor, and adjunct professor.  
Alumni Recognition Award - Richard A. Hocker, KSB/BS '68; KSB/MBA '70
The Alumni Recognition Award recognizes alumni who inspire the world around them through service to a philanthropic mission or the AU community. 
Richard Hocker is founder and chief investment officer of PENN Capital Management Company of Cherry Hill, N.J. He has more than 30 years of institutional investment experience with PENN and Delaware Investment Advisors (DIA), where he served as partner. He has also served as chair of the board of Covenant Bank for Savings, a state-chartered bank in Haddonfield, N.J. Prior to AU, he attended Valley Forge Military Academy, where he is a member of the board of trustees. Countless AU students have benefited from internships and site visits at PENN Capital, as well as Hocker's generous contributions to the Kogod School of Business. His extensive philanthropy with the Ethel Mae Hocker Foundation and the Valley Forge Military Academy and College further illustrates his commitment to education and students in need of a better future.
Rising Star Award - Kevin Malecek, SPA/BA '01, SPA/MA '02
The Rising Star Award recognizes young alumni (those who received their undergraduate degree within the last 10 years) who are already making significant contributions to greater society through professional or philanthropic work.  
Kevin Malecek is the director of the Part-Time MBA Program at Case Western Reserve University's Weatherhead School of Management, and president of the Willoughby Hills (Ohio) City Council. He has served as a member of the Willoughby Hills City Council since 2004, and has also served as president and vice president of the Lake Geauga Young Democrats, vice chair of the Lake County Democratic Party, and was the Lake County Coordinator for the Strickland-Fisher campaign. He regularly volunteers with the Lake County United Way, Project HOPE for the Homeless, and the Willoughby Hills United Methodist Church. Since graduating from AU, Malecek has stayed involved with AU through his class reunions and School of Public Affairs programming. 
"The Awards Committee had its work cut out for it this year, with nominations of alumni serving in leadership roles, making a difference in their communities, and climbing the ladder of success," said Alumni Board member Chip Griffin, SPA/BA '94, chair of the Awards Committee. "Nominees included policymakers, entrepreneurs, soldiers, volunteers, philanthropists, educators, journalists, and business executives. The award recipients could not be more deserving of recognition, but they also serve to represent the depth and breadth of accomplishment of the entire community of American University graduates." 
Please join the Alumni Board and President Neil Kerwin '71 in honoring these recipients at the 2010 Alumni Awards Ceremony and Reception during All-American Weekend on Saturday, October 23 from 6:00 – 8:00 p.m. in the American University Museum. $20 per person includes heavy hors d'oeuvres, wine, beer, and soft beverages. Immediately following the awards reception at 8 p.m., don't miss the All-American Bash, a fun-filled celebration of AU through the decades. It will be a night to remember!  
For more information, please contact Tara Lang, director of Alumni Programs, at tlang@american.edu or 202-885-5921.