AU's New Disability Support Services Team
By Patrick Bradley
September 20, 2012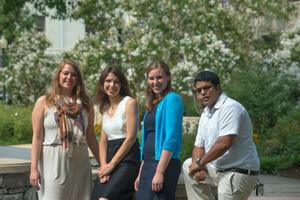 Disability Support Services at AU has been known for its open doors and supportive environment for students. Just ask Jennifer Baron, who – before recently starting as DSS's new coordinator – already admired the department's student-centered approach.

"Anytime I came over, it was clear that there were students who were really glad to be here," she says. "It always felt like a conversation where everyone could be creative about how to support a student. I got a good sense of the philosophy that's engrained in this office."

Formerly the resident director for Letts, Roper, and Clarke Residence Halls, Baron joins Marianne Huger as two new faces in DSS, both hoping to pick up the department's philosophy and advance it in the coming year.

Huger, also an assistant dean of students, will act as interim director for DSS through May. She brings experience from her time as director for Georgetown Law Center's DSS office, where she honed her passion for advocacy through person-to-person understanding of disability-related issues.

It's that person-to-person approach which both she and Baron plan to emphasize.

"We believe that disability advocacy happens best when people understand students' stories and the student experience," she says. "So, we're going to go to a lot of meetings with campus partners and faculty during Disability Awareness Week in order to allow for questions, explain a bit about our process, and explain the student experience."

With her background as a resident director, Baron notes the importance of housing accommodations for students with disabilities. It's something her office will pay close attention to as new residence halls develop on campus.

She says DSS will be "a step ahead of some of the bigger processes, to not just be reactionary to student needs but be able to have an interactive process with larger things like housing assignments, for example. To make sure we've diversified opportunities for students to live on campus that meet a lot of needs."

Huger and Baron, however, aren't focused solely on campus-related concerns like living accommodations, in-class interpreters, and adaptive technology support. College, after all, is largely about preparing students for life beyond the classroom, and this fact hasn't eluded the new DSS team members.

"Another piece is increasing student independence so that when they interview for a job, they know what accommodations they need, how to ask for those accommodations, and [that] they feel confident they can do a great job," Huger says. "When they go to an internship or think about studying abroad, they feel like every door is open to them and know how to manage the accommodation part by the time they graduate."

Both Huger and Baron won't be working alone in the DSS office; in fact, they're now part of a well-established community that crosses departments. Assistant to the DSS director Nicole Schoeb and adaptive technology specialist Kamran Rasul have been working for many years with the Academic Support Center to ensure students get the assistance they need to thrive at AU.

"One of the particularly great things about this office is its collaboration with the Academic Support Center," says Huger. "Certainly, not all students with disabilities need academic support, but some can really benefit from that…I think that their person-centered approach of learning the student's story and then finding ways to support the student based on their individual needs really worked for some of our students."

So, with Huger and Baron joining the already established services and support in DSS, the department is sure to further its philosophy of assisting every student with a disability at AU, whatever their concern or need may be.