Department Spotlight
Meet the Director: Rick Rockwell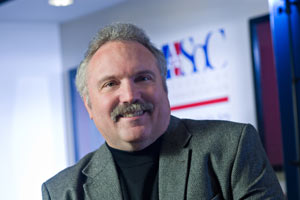 Associate professor Rick Rockwell is an accomplished international journalist and co-author of the book Media Power in Central America. Rockwell's expertise in Latin America stems from his journalistic work in Central America and Mexico. We sat down to ask him about his new appointment as director of American University School of Communication's International Media MA program.
Q: What are your thoughts on being the new director of the International Media program?
A: I'm very excited about the program and how it has grown. Although Associate Dean Rose Ann Robertson is the person who germinated the seeds of this program more than five years ago, I'm glad she recruited me as one of the gardeners to see the program through to fruition. I was one of the key faculty members who helped shape the curriculum in the program and worked behind to the scenes to create this two-year offering. Many of the first students in the program showed up in my international classes and so I've been in touch with the program since its inception. I'm honored to be in a position now where I can help guide where it goes from here.
Q: What special strengths do you bring to SOC as a faculty member and program director?
A: My experience with international media begins with my experience as a journalist in various international locations: in Latin America, in Pakistan, in Russia at the end of the Soviet Union, among other locations. After moving into an academic setting, I continued working on a number of international projects. One of them was the book I co-authored, Media Power in Central America. That book won special notice from the American Library Association as one of the best academic books in 2004. Since that time I have continued to focus on projects, both journalistic and academic endeavors, in international settings. For instance, for a number of years I worked as a consultant for Link TV's "Latin Pulse" special programming. As a faculty member, I have more than 30 years of journalism experience, most of that in the broadcasting area, but like many, today, I'm a multi-platform journalist. As a journalist, I have won more than a dozen major awards on the state, regional, and national level from organizations such as the Associated Press and the Radio-TV Digital News Association. So I think what I bring to the program and faculty is a history that is all about quality.
Q: What do you value most about teaching and being here at AU?
A: It's an exciting setting that provides new challenges every year. I've been here for 14 years now, so I know there's always an unexpected and interesting development ahead.
Q: What do you see in SOC international media students that make them special?
A: I've worked with students in the international media program almost since its inception. What impresses me about the students is their dedication and vision. They come prepared with ideas about where they want their careers to go. And the interesting part about that is that rarely are they cut from the same mold. They usually have very unique and interesting career ideas.
Q: Why do you think the program has grown so quickly?
A: Beyond the good marketing and communication the school has done to get the word out about this program, I think it has grown because we are experiencing some seismic shifts in the communication field. Right now, non-profits and other organizations are often leading the way when it comes to spreading word about human rights, transparency and better government. Journalists have ceded the ground in those areas sometimes due to budget cuts and the way social media have overtaken more traditional media outlets. So people who would like to be part of this new wave of communication in the developing world and in the international sphere now have a program like this one, designed to put them into the center of communicating about the significant changes ongoing worldwide. Many people recognize those changes and see our program will give them the start they need to make a difference.