Environment
SOC Film Classes Go Green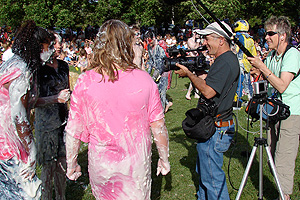 The environment may get a little cleaner because of Coke cans left in a classroom.

Thanks in part to the impact of those unwanted cans, the School of Communication's film and media division may even become the first carbon-neutral film program in the country.

How that happened goes back to a class with film professor Larry Engel, who was getting very tired of picking up soda cans and plastic water bottles left by students who meant to be green, but didn't always manage it in practice.

When he announced a no-can policy for his classroom, the first reaction was a flood of complaints. "I'd get, 'But this is recyclable.' But I don't want any trash over the course of three hours," says Engel, who spoke on June 18 about green filmmaking at the SilverDocs Festival in Silver Spring, Md., the country's largest documentary festival.     

Like Engel's students, many filmmakers want to be green. But it's hard to break the carbon habit.

In the classroom, the whining soon turned to support. "They became self-policing," he says. The speed of the change got him thinking about another seemingly intractable eco-problem: the carbon footprint of filmmaking.

All those miles logged in cars and planes to get a few minutes of videotape. All those unrecycled batteries. All those CDs and jewel cases. Filmmaking has a greater carbon impact on Los Angeles than transportation, according to one study cited at the panel. Somehow, Engel thought, there had to be a way to make good movies that are also good for the earth.

Greening the film industry

As he was mulling over how to be greener, Engel ran into British filmmaker Andrew Buchanan, who made the first carbon-neutral film for National Geographic. Then he found a few like-minded faculty members, Pat Aufderheide and Chris Palmer, who urged him to formalize the ideas and best practices into a code.

That was the origin of the Code of Best Practices in Sustainable Filmmaking, created by Filmmakers for Conservation (FFC) and two centers within AU's School of Communication: the Center for Social Media and the Center for Environmental Filmmaking. The code includes checklists and CO2 trackers and provides a way to document emission and waste to determine how much carbon needs to be offset.

The code has been adopted by SOC's film and media division, which will strive to be carbon-neutral this fall semester. Engel will train faculty on how to use the code and work with carbon calculators to implement green practices in the film classroom.

He spoke about the code on a panel, "How Green Is Green: Do Filmmakers Have an Environmental Responsibility?" which also featured Laura Gabbert and Justin Schein, codirector of No Impact Man, about a Manhattan family trying to live for a year with no environmental impact at all, including electricity. Abiding by the family's experiment, they often filmed by candlelight and from a bicycle.

Carbon neutral savings aren't small potatoes

Engel isn't that extreme, but he walks the talk. The longtime filmmaker who lives on an organic farm is currently working on a film about the humble potato, Potato Heads: Keepers of the Crop, filmed in Peru near the potato's origin and in rural Minnesota. In spite of the hefty mileage, he kept his impact low by making conscious but practical choices, such as using a Prius in Minnesota and using large rather than small individual water bottles in Peru, where doing without bottled water completely would have been playing roulette with the crew's health.

The result so far: His small film is responsible for 15 tons of CO2 emissions, 64 percent of which has been travel. That may sound like a lot, but not in comparison to industry norms. He'll offset the emissions at a cost of around $300. In comparison, he saved several thousand dollars through green decisions. That's not small potatoes. 
But first, Engel did his homework. He warns that many carbon offset operations are ineffective or even counter-productive. He uses Native Energy, which is gold-certified, meaning that its positive impact is scientifically verifiable and sound. Many of the carbon offsets fund wind power and also involve Native American communities. The Code of Best Practices in Sustainable Filmmaking has also been reviewed by a scientific panel to ensure its suggestions really make scientific sense.

Engel already cared about being green before the code. So, for that matter, did his students, many filmmakers, and others at SOC. But they hadn't made the leap into formal action.

Change, he says, really can start small. In this case, it began by picking up Coke cans and wondering what more can be done for a greener world.