Television & Film
Bridging the Gulf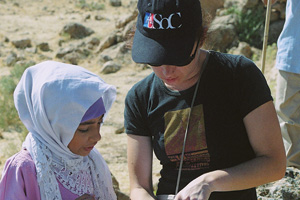 The challenges faced by women in leadership positions within the Muslim faith are daunting. 
Capturing those challenges on film, especially for a non-Muslim woman, also is no easy task. Yet School of Communication professor Brigid Maher does just that in her documentary, Veiled Voices.
Screened in April at both the Al Jazeera International Documentary Festival and Los Angeles International Women's Film Festival, Maher's film has garnered critical praise for its insight into how Muslim women are increasingly willing to challenge the status quo from within their religion, promoting Islam as a powerful force for positive transformation in the world.

"The film, the first of its kind . . . is not to be missed by any who wish to enter the world of contemporary Islam with its lively gender dynamics being refashioned under our very eyes," says Margot Badran, author of Feminism in Islam: Secular and Religious Convergences.

Maher, who's produced four other films in the Middle East, shot Veiled Voices over two years in Lebanon, Syria, and Egypt. It will air on PBS during Ramadan in August, and is scheduled to air on Free Speech TV August 9, October 6, and November 21.

In June, Al Jazeera acquired the rights to show the documentary on its networks in Middle Eastern and North African markets.

"It's very exciting that this subject matter is going to be broadcast in the areas where these women are doing this kind of work. It's an indication of an increasing awareness about these issues," Maher says. "The gulf of misunderstanding is growing. My hope is that by making films like Veiled Voices, I can help to bridge that gulf."
Journey into America
"In order to understand the true meaning of 'American identity' and its Muslim component, you need to look back to the vision of our founding fathers," says Akbar Ahmed, former Pakistani ambassador to Great Britain and current Ibn Khaldun Chair of Islamic Studies in the School of International Service. "To them, America meant freedom and tolerance, without judgment, or persecution, no matter where you came from. If we want to combat issues like homegrown terrorism, we must think about people in the same way our founding fathers did and embrace their belief in the American dream."

Ahmed and a team of five research assistants gained these insights while on a one-year sabbatical during which they traveled to more than 75 cities throughout the United States, visited more than 100 mosques, and conducted thousands of interviews with both Muslim and non-Muslim Americans. Their goal: to gain an understanding of Muslim American communities.

Their research has been compiled in a new book, Journey into America: the Challenge of Islam (Brookings Institution), which was released this June.
Your Britain: Media and the Making of the Labour Party
How did Britain's Labour Party come of age in the first half of the twentieth century, rising from a movement of working-class men into a national party that won a landslide victory in 1945?

Through its skillful media strategy, argues College of Arts and Sciences professor Laura Beers in, Your Britain: Media and the Making of the Labour Party.

"This is a very original and important book," says Ross McKibbin, of the University of Oxford. "[Beers] makes a convincing case that Labour was quick to take up modern media…which was an essential element in the creation of the broad-based democratic electorate that gave the party victory in 1945."