Journalism
SOC Partners With Colorado Newspaper for Internship Program
By Rosemary D'Amour
October 31, 2011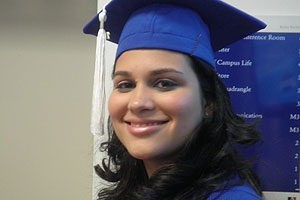 Not many journalism students get to cover their president of the United States on their first internship assignment.
But that was the case for Rocio Gonzalez, SOC/BA '11, as a Washington correspondent for the Durango Herald. 
Her first assignment: cover President Barack Obama's speech on his proposed American Jobs Act. 

"It was mindblowing, everybody working around me," Gonzalez said. "There's a certain kind of energy in a room when everybody's working, it's exciting, it's one of the things that attracts me to journalism."  
Gonzalez, a former AU Eagle staff and copy writer, is the latest intern in a partnership between SOC and the Durango Herald, a news organization in southwestern Colorado, that provides one SOC student per semester with a paid internship to report on Washington for the local newspaper.  
Gary Hook, a member of the Board of Directors at the Durango Herald, helped to facilitate this internship opportunity with former colleague and SOC Professor Lynne Perri. Hook said that for Herald interns, the experience provided real-world, high pressure situations that they can't get elsewhere.  
"I think there's terrific value in baptism by fire," Hook said. "Whatever trepidation they might have had going into it, that goes away pretty quickly once they go in and do it—like anything else in life."  
The idea for the program originated in 2009, when Hook approached the Herald's editors with the idea of incorporating students into the Herald's Washington reporting. Then Hook approached Perri with the idea to use AU students, who would go through a significant vetting process by Perri.  
"They've done a terrific job covering the Colorado delegation," Hook said. "We're just so enormously pleased with the interns we've had, and delighted with how well prepared they are." 
Although the intern position is typically reserved for a current student, Hook said that they were impressed by Gonzalez, who graduated in May of 2011, and decided to use her for the fall, and reserved the spring semester's internship for a current student at SOC. 
"I'm covering Congress, I'm interviewing senators, I'm doing things that many people can't do until they're well into their careers," said Gonzalez, a native of Puerto Rico. "On top of that, I'm helping to inform others of decisions that are taking place in Washington that could affect their lives dramatically, which is amazing."  
Hook said the feelings were mutual. "Herald readers really benefit by having boots on the ground, so to speak, to provide fresh stories with a local angle out of Washington," he said.  
On top of an impressive portfolio, Hook said, the evolution of students' work leaves them better prepared to be professionals in the field.  
"As they get deeper into the semester, they get better at it," Hook said. "Stories come faster, they're used to the deadlines, they're in a much better position than when they started."  
Gonzalez was the first intern to be flown out to Colorado to meet the staff, which Hook said was part of the evolutionary process for the program as much for the Herald's team as it was for students. 
"After each intern we ask what we could do differently, and now we're making it a point to bring them out, get a sense of what it's about here," he said.  
Through the program, every student has the opportunity to craft their experience, to evolve as writers and reporters, either through proposing projects or taking initiative when breaking news comes along. Gonzalez said she was looking forward to expanding her skills, perhaps getting involved with multimedia, and saw the extended internship as a tremendous opportunity.  
"If you don't go out of your comfort zone and go out of your way to learn new things, then what are you doing?" Gonzalez said. "That's the point of an internship like this, you're here to learn, to expand your horizons, and take something away from it."