Environment
Environmental Filmmakers Win Three Student Emmys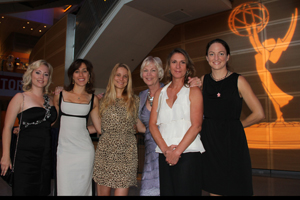 School of Communication students won top honors in three categories at the 54th Emmy Awards June 16 at the Newseum in Washington, DC.
The American University filmmakers won student Emmys for Outstanding Documentary, Photography and Editing. Accepting the award for their Outstanding Documentary, Menhaden: The Most Important Fish in the Bay, were Gillian Ray, Sarah Gulick, Helenah Swedberg, Ali Ogden and Jennifer Stratton. Brian Kelley, Tony Azios and Jordan Brown were unable to attend. The film premiered on Maryland Public Television in April as part of Chesapeake Bay Week.
Swedberg and Kelley received the student Emmy for photography, and Kelley also won for editing.
Menhaden: The Most Important Fish in the Bay highlights a species of fish that plays an integral role in the ecosystem of the Chesapeake Bay, and was produced for Professor Sandy Cannon-Brown's Environmental & Wildlife Production class, an initiative of the Center for Environmental Filmmaking.
"The level of professionalism demonstrated by this production team far exceeds anything I've seen in the classroom - or anywhere, for that matter," said Cannon-Brown. "They were determined to deliver a superior program to MPT and worked together toward that single goal."
Earlier in the week, these emerging filmmakers learned they had also earned a CINE Golden Eagle for their film.
Dean of SOC Larry Kirkman praised the students' work, saying, "This is what SOC's film program is all about: professional and passionate, important subject, well-crafted, teamwork, faculty leader, sustained major media partnership, industry recognition -- lives up to our rhetoric, it's media that matters."
Cannon-Brown also gave equal praise to the students who produced another fine film for the class: Restoring the Bay: New Solutions to Old Problems.
The two full-length environmental documentaries aired on Maryland Public Television this year. The extraordinary undertaking is part of a long-standing partnership between the Center for Environmental Filmmaking and MPT.