First Person
Election Coverage Highlight of Dean's Intern Experience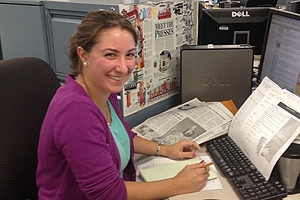 Below is a first person account from Dean's Intern Stefanie Dazio on her internship at The Washington Post.
I applied to colleges in the midst of the 2008 presidential election.
Between the Common App and SATs, it only briefly crossed my mind that I would be a college senior for the 2012 election.
Then I was accepted to American University. Suddenly, I realized I would be living in the center of the political world during the next election – and maybe, just maybe, covering it, too.
I never, ever, in my wildest dreams imagined I would be covering it as a reporter for The Washington Post.
My Election Day 2012 started early. I covered the polls in wards 2 and 6 from 7 a.m. to 4 p.m., asking voters whom they cast their national and local ballots for and why. Answers ran the gamut from lifelong political affiliations to an interest in keeping corruption off the D.C. Council to the suggestions of spouses. No two voters were alike.
Even though my shift was technically over, I headed into the newsroom around 6 p.m. With its flurry of activity and mini chocolate Capitol, there's no place better to be on Election Night.
I watched as editors and reporters fine-tooled their stories, waiting for the final tallies. I scanned my emails as The Post's team made their official race calls. I listened as CNN's Wolf Blitzer spoke from TV's mounted across the newsroom, constantly making new projections. I quickly walked over to the Decision Desk, manned by former Executive Editor Len Downie, with many other staff as the networks called the win for Obama. Go with the president for print, the desk said.
Leaving around 1 a.m. that night, I was incredibly proud: proud of my small contribution, proud of my paper and proud of my industry.
I can't wait to do it all over again, four years from now.