First Person
Roseman's Internship Allows Her to Tell Stories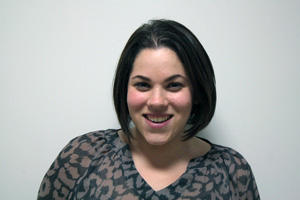 Below is a first person account from Dean's Intern Emily Roseman on her internship at USA Today.

If you are not careful your internship experience can become habit forming. As a School of Communication student I knew I had to get as much field experience as possible to prepare myself for a career as a digital journalist. With every job I learned, "No matter what you do, tell me a story".
Each morning my alarm would come to life at 6:00 a.m. and my body transformed from its zombie-like-state to one of preparedness. As usual, it is dark outside. We've met like this before, maybe during my sophomore year, when my heart raced as I navigated down the echoing halls of the White House.
Perhaps it was the early morning commute to New York, as I made my way to my job with MSNBC, which convinced me that a career in journalism would not be easy but I knew that long ago. Some years ago, a family friend and Director, brought me to Good Morning America and introduced me the anchors. I remember Robin Robert's words that a journalists life starts very early in the morning and is anything but glamorous. I knew she was testing me with a challenge to see if I had the will to survive the early years. I knew that success meant I had to get as much practical experience as possible during my four years at American University.
So with each of my five work experiences, I put on another suit, grabbed my badge and ran to catch my shuttle.
Each commute is just like every other. Long and daunting with a sea of faceless strangers, all making their way to their job. I've seen this before. Perhaps in London, making my way to the unknown suburbs of England. Or was it marching up and down K Street trying to get to the next interview for BBC World News?
This year, for my Dean's Internship, I change trains and run for the 425 bus, which travels down the corporate streets lined with office buildings. But out in the distance, like a shining beacon of hope, there she is, the Gannett building at USA Today. I am ready for my day. The vast freshly waxed floor is a vision with the sun shining through the glass facade of the art deco building. Nearly surreal I am an undergrad student placed in a sea of professional journalists. I've been in this situation before and anxiety quickly turns to excitement. I know I belong here.
The elevator lift brings me to what I find as the world's quietest newsroom in America. The antithesis of my prior news broadcast experience where chaos and yelling is so commonplace it becomes an almost comforting environment for a news-loving journalist. I love my work at USA Today, enjoying the bylines, and my team of associates who give life to stories that lay flat on the page. 
Although less chaotic, a true anomaly in the world of news, I sit down, melt into my headphones, and begin my craft. I was chosen as one of the SOC Dean's interns for USA Today where I worked alongside the video editing team. We consult with each other, sharing ideas of our craft and create a visual version of the newsprint edition. As an editor, I design a story that compels the viewer to want to learn more, but entice with video.
I learned that my work as a student and as a professional upon graduating this May, does not end in the classroom or the editing booth. We are composers, artists, authors, always re-writing our narratives, erasing key sections of beautiful sonatas, and ultimately, creating the most compelling story our audience will ever want to hear.
My job as an editor is to tell stories. I wake up, I get dressed, I commute, and I intern because I want to tell stories for the rest of my life.
The Dean's Internship program pairs SOC's top students with selected partner organizations for semester-long, for-credit internships. The competitive program provides extraordinary opportunities for undergraduates and graduates to have their work featured with named credits and bylines under national brands. Find current opportunities and application information.