First Person
National Geographic Channel – An Intern in the Midst of Change (and Zebras)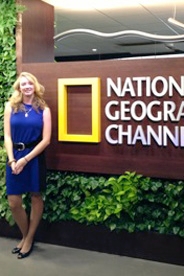 Below is a first person account from Dean's Intern Samantha Falewee on her fall internship at National Geographic.
When you think of "National Geographic", chances are you'll imagine that classic yellow logo, the iconic shape that is synonymous with an internationally recognized brand. From explorers of the Amazon, to the awe-inspiring photographs that fill each magazine, the National Geographic logo has stood the test of time as a classic symbol. Now, that logo is changing: it's been digitalized, brought right into the middle of the new media age. I see it now most often in the corner of hit television programs, part of a highly successful venture: the National Geographic Channel.
As a SOC Dean's Intern at NG Channel's Ad Sales and Marketing Department, I was able to explore an unparalleled television experience. I learned the difference between a "glint" and a "snipe" (hint: there isn't one), I learned how promotional spots and advertisements are created, from the first brainstorming session on a Tuesday morning to the final voiceover sent out to LA on a Friday afternoon. I attended voiceover sessions, helped write short scripts, and crafted promo spot storylines. Especially important was the opportunity to be part of professional bartering and partnership discussions between the NG Channel and their key sponsors, such as USA Today.
Perhaps the most fun was attending the brainstorming meetings, in which wild promotional ideas flew around the conference table, growing and expanding into tangible marketing ventures. Think an enormous fish tank built exactly like an old-fashioned Coca-Cola bottle for NGC's "Fish Tank Kings" series, think a live 80's band jumping out of a Pepsi truck to perform in the middle of a week to unassuming employees (check out NGC's "The 80's" special program). These are not just idle ideas; events like these were planned and executed, and I was there in the middle of it.
Another perk? Every day I sat at my desk next to an enormous inflatable zebra (employees give it fond pats as they walk by), and the office environment was incredibly open, friendly and willing to help me explore all aspects of the NG Channel. This was my first venture into the television world, and I could not have had a more welcoming atmosphere or helpful supervisor. This Dean's Internship experience will be invaluable in the future as I can now connect what I've learned here at American University to a professional, creative media environment.
Thanks NGC!