Arts
School of Communication Hosts Photo Pros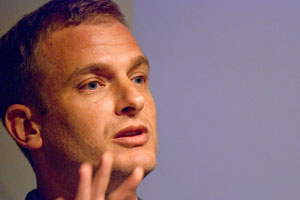 Magnum Photographer Christopher Anderson spoke to a packed audience of AU students and industry professionals during November's FotoWeek DC as part of the School of Communication's Center for Social Media's Camera as Catalyst Series.
"Emotion or feeling is really the only thing about pictures I find interesting," said Anderson. "Beyond that it is just a trick." 
Anderson, who became an Associate Member of Magnum Photos in 2007, reflected on his experience documenting events and people around the world. He had a seemingly endless list of awards and recognition, including POYi Magazine Photographer of the Year, the Robert Capa Gold Metal, Kodak Young Photographer of the Year, and the Visa d'Or Daily Press Award. 
Since the early nineties Anderson has photographed a wide range of subjects including Afghan refugees in Pakistan, the economic crisis in Russia, the election of Evo Morales in Bolivia, Haitian migration to the United States, the war between Hezbollah and Israel, and stone throwing in Gaza. His most recent book, Capitolio, explores the complex and often contradictory world of contemporary Caracas, Venezuela.

Anderson's audience included big names in the area of photography like photo editors Gina Martin (National Geographic), Sadie Quarrier (National Geographic), Elizabeth Krist, (National Geographic) and Sara Lictenfeld (AOL Latino) as well as photographers including Susan Biddle (The Washington Post), Samantha Appleton (Founder, Noor Photo Agency) and Jodi Cobb (National Geographic Staff Photographer).

Photography's Current Marketplace 
In collaboration with FotoWeek DC, SOC hosted a lively panel of photographic professionals who discussed the current marketplace and its implications for the future of the industry to an audience of students, faculty, and local professionals. 
Elizabeth Cheng Kirst described her experience working as a National Geographic Senior Photography Editor. She encouraged students to stand out in a highly competitive market by finding a photographic specialization to focus their own portfolios. 
Vanity Fair, National Geographic, and USA Today contributor Cameron Davidson spoke about his role as a freelancer. Davidson noted an increased workload for freelance photographers. He attributed this shift to digital technology workflow, which requires that photographers be responsible for 'processing' their own film, a time consuming process that was handled by labs in the past. 
Kathleen Ewing, owner of Fine Arts photography gallery, described her decision to move her successful P Street gallery online. Ewing emphasized a shift in the market when she mentioned that clients are willing to buy a photograph that they've never even held in their hands. Jessica Dawson of The Washington Post described Ewing as "widely regarded by curators, collectors and artists as the doyenne of Washington's photography community." 
American University's own staff photographer also experience to share. Jeffrey Watts, one of the first in the industry to experiment with digital technologies, commented on the growth of digital and AU's own shift to put images online.