Communications
Fulbright Scholar Bringing Expertise to Study of American Media
By Rosemary D'Amour
April 5, 2011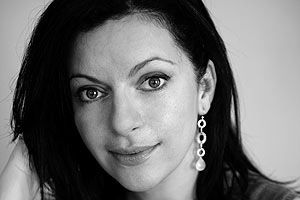 Nadia Dala, a Fulbright Scholar-in-Residence at American University's School of Communication, is completing a six-month research project analyzing the framing used by the media in post 9/11 reporting, addressing the way journalists deal with Islam in their reporting techniques.
Her in-depth analysis focuses on the concepts, images, and words being used, as well as placement in the print or online editions of two of the US' most respected news providers: the Washington Post and the New York Times.
"Starting at 9/11, did something change? We're looking at the 'what' and the 'how,'" Dala said. "We're not just looking at the frames the media are using, but what are the reporting mechanisms—when does a story become big or small, from what angle is it reported, we look at the choice of words and pictures."
Dala is interviewing journalists, lobbyists and academics for her research. "I want to know from the people here what is happening," Dala said. "I don't want to provide my own perspective. Something is happening here, something is moving here, and that's what I want to explore."
Dala says her mixed Flemish Catholic and Moroccan Islamic background led to her interest in the way stories were told. "I always saw these two worlds as connecting, rather than opposing," she said. "But people all my life have asked me, 'what are you, are you this or are you that'."
"I started in journalism trying to connect both worlds, to communicate between these worlds," she said.
Dala had her choice of universities to conduct her research. She had visited AU previously for a summer program on human rights, and says that AU's location, in the country's epicenter of media and politics tipped the scale. SOC Professor Rhonda Zaharna, Dala's advisor, said that her research was inspiring.
"When she first contacted me about selecting SOC as her research site and described her research, I appreciated the sensitive and critical issues she wanted to study," Zaharna said. "She has been wonderful to work with—amazing personal energy. She seems to be leaving no stone unturned in seeking answers and opinions."
Before undertaking her current work, Dala spent several years as a teacher training journalists in Belgium, and as a reporter for an Egyptian newspaper. She literally wrote the book on understanding the angles of a issue and de-politicizing their associations to put out the best representative story, Intercultureel Communiceren: Wie durft? Duidelijke spelregels voor de nieuwsbrenger (in English, Intercultural Communication: Who dares? Clear rules for the newscaster), "Really, it's just about being a good journalist," she said.
As a teacher, Dala focused on what she calls "inclusive journalism," or looking for new angles and different perspectives on a news story, and avoiding clichés. She says too many journalists rely on old models and assumed identities or beliefs.
"A society is dynamic, a culture is dynamic, they're always changing, but so many people are portraying societies and cultures as non-dynamic," Dala said. "There are a lot of stories out there that are just screaming to be re-thought."