Communications
Gaining Real World Experience through NABJ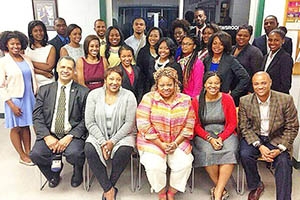 Below is a first person account from SOC undergraduate journalism student Brianna Williams on her experience at a training hosted by the National Association of Black Journalists at Florida A&M University.
I went in print journalism minded, and came out with a whole new perspective. 
In September, I had the opportunity to attend the Florida A&M University Multimedia Short Course on behalf of the National Association of Black Journalists. NABJ is an organization that I've been a part of for a little over a year now and I couldn't have made a better decision than this one. 
The organization offers two multimedia short courses during the year, one in the fall and one in the spring. Short courses are three or four day intensive journalism boot camps that prepare journalism students for the field that lies ahead.
I was the only print journalism student among 19 other broadcast journalism and mass communication students. I decided to not let that faze me, learn as much as I could and gain great skills and contacts from the program. It only made me more motivated to show that I could do the same tasks as those students, and maybe even do them better. 
Throughout my time at the short course, I really got to see what it's like to be a real, working journalist. Journalism and communications is not a 9-5 job; it's a 24-7 job, it never ends. Although my colleagues and I ran on little sleep, our drive and excitement were results of our work.
I was able to go out into the city of Tallahassee and cover real stories. While I was there, I helped to cover two stories: one on the StarMetro veterans program and the Wine and Cheese celebration for the inauguration of FAMU's first female president. Covering these stories allowed me to experience and practice broadcast journalism in shooting footage, doing standups and editing the film.
By the end of the short course, my fellows and I were able to produce a newscast that was written, produced, shot and edited completely by us. Individually, I edited almost a whole newscast worth of video, wrote some VO/SOT (voiceover/sound on tape), and reported, shot and edited an entire package which I can now use to show my versatility.
At the end of the mostly broadcast based program, I learned a lot about broadcast journalism and production, more than I had ever considered. My mentors were also surprised with how much I soaked up, and accomplished. Doing the short course allowed me to see that I truly want to pursue broadcast journalism and digital platforms as career pathways. It helped me to solidify my career goal of being a multimedia journalist.