Communications
Communication Students Learn from Discovery's Top Doc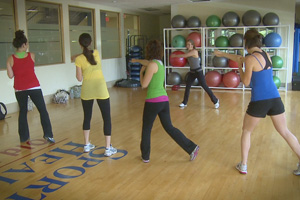 Students in Dr. John Whyte's Health Communication class this summer had the unique opportunity to craft digital shorts on health-related issues, and then shoot them with a professional film crew, care of their professor.  
Whyte, the chief medical officer for Discovery, said his goal was to give students practical, real-life experience by creating these digital shorts.  
"The power of video is how people communicate," he said. 
Whyte brought in a long-time friend and former colleague at Discovery, Eileen O'Neill, who now is president of the TLC network. O'Neill came to the class to speak and give feedback on student's show pitches.  
"I wanted her to come in and talk about the challenges of anomaly programming versus standard type medical lectures, " said Whyte. He used an example saying, "It's easier to get people to watch a show about a 200 lb tumor than it is to get them to watch a show on heart disease." 
The class was mostly discussion, based on class readings ranging from mammography to medical ethics. The students also learned about evaluation methods used for health campaigns.   
Graduating master's student Julie Gerdes said she really enjoyed taking the class and found Dr. Whyte extremely knowledgeable.  Gerdes signed up for the class because it was a topic always she was interested in and she wanted to get some experience outside her primary focus, the arts.  
Gerdes said she most enjoyed shooting the digital shorts. "It was a really great experience because I've always been interested in production and although I've done some production with ballets and a little bit with film, I've never really done anything like this," she said. "I wasn't as comfortable in front of the camera as I thought I'd be, but I really enjoyed the process of it. It was a totally different project than I've done in any other classes."  
Fellow grad student Manda Schweitzer said she signed up for the class because she wrote her capstone project on source credibility in public health in light of H1N1, and she wanted to further learn how to apply her personal research in a practical outlet.  
Schweitzer said her overall class experience was positive. "While we covered many of the theoretical principles necessary for health communication, it was all through a very practical, real-life lens, which for me, made it more salient," she said.  
Currently, Schweitzer is interning with Discovery Communications in their LifeWorks department.  Taking the class gave her the opportunity to work directly with one of the top people at her company, a networking opportunity many students would envy.