Communications
AU, Egyptian Students Impact Communities Through Media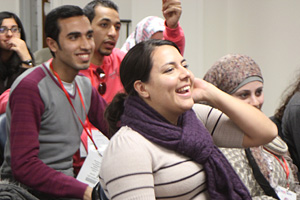 Students in the International Media program had a unique opportunity to interact in person with students who witnessed the Arab Spring and took part in the revolution in Egypt as journalists and media professionals working for change.
The AU event, "Impact Through Media," brought ten Egyptian university students for an evening discussion. Each had a story as to how they have used media, in particular social media, to impact their communities.
The event was a component of a project facilitated by Internews and the U.S. Agency for International Development, which brings students and media professionals from around the world to interact and have a conversation on topics important to their field.
Professor Rick Rockwell said that the goal of the AU event was to provide a better space for dialogue.
"It's not the typical hierarchical discussion, it's informal, but still deep," said Rockwell, who runs SOC's International Media Master's program, a joint degree between AU 's School of  Communication and the School of International Service. "Students can come forward and connect in a way that works and speaks to them—those connections are the most powerful, I think."
The event marked the first in what Rockwell called an "International Media Speaker Series," where students will have the opportunity to learn beyond the classroom, and speaks to the program's unique ability to bridge the gap between cultures.
"This is not a cookie cutter program," he said. "Bringing in experts and people with experiences like this helps diversify the experience these students are getting."
Ahmed Galal, a journalist and student at Alexandria University in Egypt, spoke to the previous regime's dominance of traditional media before the revolution, and his use of social media, like Facebook, Twitter, and the blogosphere, as an organizing tool for dissent during the Arab Spring. But despite achieving early goals, Galal said, there was frustration amongst the media now as to how to interact with citizens in the future.
"In Egypt the media is still confused, but as for the electronic space, there is some agreement and discussion on forming a new Egyptian identity," Galal said. "I'm hopeful that we would be the generation to create change in our country."
But to do that, the students said, their generation needed an expertise in communication technologies and practical journalism and media training that their universities lacked.
Amal Fawzi, student at Alexandria University, whose background is in sociology, said that students in Egypt faced their biggest challenges when they left school and entered the workforce.
"What we are taught at university is usually theoretical and not practical at all," Fawzi said.
SOC students had the opportunity to add their own voices to the discussion. Fatima Shahkolahi, MA/IM '13, spoke to the difficulty in managing communication between different generations.
"You look at the older Muslim generation, they're not as connected, they're using different tools," Shahkolahi said. "So communicating within different generations, it all goes back to that idea of knowing your target audience, figuring out the best way to communicate your ideas."
Corey Smith, MA/IM '13, who works at SOC's J-Lab, said that Egypt's use of social media during and after the revolution has led to a better conversation about the role it plays in daily life, particularly for journalists.
"You're looking to us for advice, but we're also looking to you for advice as well," Smith said to the visiting students. "Media is a two-way street, it's a conversation."