Communications
In the Executioner's Shadow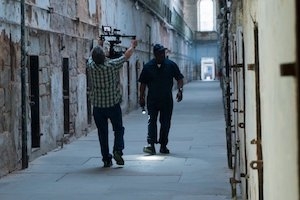 American University School of Communication professors Maggie Burnette Stogner and Richard Stack know that capital punishment is not a simple subject, and their forthcoming documentary film, In the Executioner's Shadow, shows why. It tells the stories of people who have personal experience with the death penalty, from crime victims to a former executioner. Through their eyes and stories, the film navigates the moral quandaries of capital punishment, and larger issues of American identity, fairness and the criminal justice system in our nation.
Stogner said, "It's about who we are as a country and what our values are in the 21st century."
Stogner, a filmmaker and professor of film and media arts, and Stack, a strategic communication professor, have worked with several students and alumni on the project over the course of production, and it's final entering the end stages of production.
The film will debut later this year. Their hope is that the film will spark dialogue about understanding justice.
"We've discovered through our various interviews that one side talks past the other. It's a mutual predicament. And we're trying to get people to talk to each other," says Stack.