Government & Politics
Inspirational Professor Analyzes Role of Women in Election Results
By Elizabeth Preuss
December 6, 2012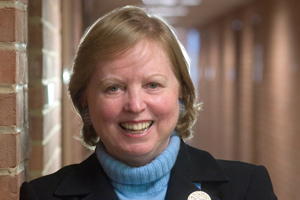 What was the impact of women and minority voters in President Obama's victory in the 2012 election?  American University School of Communication professor Dotty Lynch explored this issue in "Women and Politics" in the last of five lectures of the new series "American Women: Conversations with AU's Inspirational Women."
The lecture was moderated by SOC and Washington College professor Iris Krasnow. Aside from teaching full-time at AU and directing the SOC/SPA MA in Political Communication program, Lynch is a political consultant for CBS news giving on-air radio analysis. This was her 22nd election cycle as a journalist and pollster. 
The timely discourse by Lynch served to explore the differences in voting habits of women and minorities for each of the candidates, and how the Democratic and Republican campaigns succeeded and failed respectively to reach the target groups.
Lynch explained that the Obama campaign was very insightful when framing issues in order to get voters to participate on Election Day and to vote  for Obama over Romney. She argued that "this was a campaign that was fought in the battleground [states]." Those states were crucial for microtargeting minority groups.  According to Lynch, Romney was out-of-touch with those groups, and was therefore unable to rally them enough.
In addition to deconstructing the women's vote, Lynch showed and elaborated on the exit poll results of African Americans, Asian Americans, Hispanics, youth (18-29) and LGBT members. There was an overwhelming majority that voted for Obama in each of these groups, while women were split more evenly.
After the presentation, Lynch participated in a Q&A session. Questions ranged from whether there will be a woman president any time soon, to why the Romney campaign was surprised by the election results.  Lynch answered the questions based on her own observations and expertise.
Following the questions was a chance for audience members to discuss the presentation with Lynch and the other listeners.
The series, "American Women: Conversations with AU's Inspirational Women", is set to continue in the spring due to the success of this fall's lectures and the large pool of impressive women from which to choose from at AU.