SOC is Major Force at Internet Researchers Conference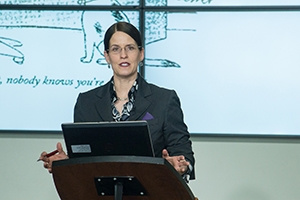 American University School of Communication faculty were a major force at the Association of Internet Researchers (AoIR) conference in Phoenix, Arizona. 
The AoIR is a member-based, academic association dedicated to the promotion of critical and scholarly Internet research independent from traditional disciplines and existing across academic borders. 
SOC faculty members Pat Aufderheide, Laura DeNardis, and Aram Sinnreich are presenting papers. Doctoral graduate Tijana Milosevic is presenting her work on cyberbullying, and Doctoral students Andrea Hackl, Tatevik Sargsyan, Todd Newman, and Theo Plothe are presenting papers.
The theme of this year's conference is "Digital Imaginaries." Attendees will discuss topics such as Internet governance, economic and political interests, civility online, and cyberbullying.