Achievements
Staffer of the Year Shapes SOC from Behind the Scenes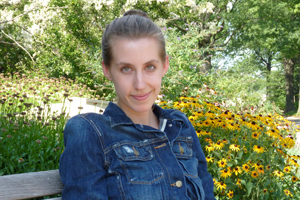 In the past year, Elizabeth Komoroski coordinated the search for a new dean of the School of Communication, reinstituted and led a team of staff representing all departments at SOC and created professional development opportunities for Federal Work Study students. And that was all in addition to her considerable duties as Senior Administrative Assistant to the Dean of the School of Communication. To top it off, she did it all with a smile. It's not hard to figure out why she was named SOC's Staffer of the Year.
An extension of the AU university staff performance awards, the award formally recognizes outstanding performance by a full-time staff member at SOC. It is given to a staff member who achieved outstanding results and/or demonstrated outstanding service and commitment to the school. Ellen Mata was the recipient of the 2011 award.
Komoroski's supervisor, SOC Chief of Staff Kristi Plahn-Gjersvold, says, "Elizabeth provided extraordinary leadership during the SOC dean's search process, problem-solving some difficult situations and has taken the initiative to build community across campus with other Dean's Office assistants. She is always looking for ways to mentor and engage our dean's office FWS students and chaired the Core Services Team, coming up with new ideas and projects to keep that team moving forward. She really earned the staffer of the year award this year!"
"It's incredible to receive acknowledgement from colleagues," says Komoroski. In administrative roles, "[Y]ou're behind the scenes. If you do your job well, no one is supposed to realize you're there."
Helping to manage the Dean's Search was an enormous responsibility, and Komoroski rose to the challenge. She says it was inspiring to work with faculty on a common mission to "serve SOC wholly and fully."
"I have always been fascinated by how organizations work," she adds, and she was impressed by what she learned about AU through the search. "It was the very best of committee and consensus. We found a great new leader and we feel very proud to be a part of the process," she says.
SOC's Core Services Committee – a 15-member group of support or front-line staff - is another area where Komoroski's organizational and coordinative skills have served SOC. In addition to giving her an opportunity to better know other staff, she is excited by catalyzing community building and creating new ways to work with Senior Staff . The group also allows different SOC departments to share resources and better communicate to serve the needs of the School.
Over the past year, the group focused on strengthening the sense of community for staff through a series of events. Komoroski says that they plan to build on this over the next several months by institutionalizing some of the most popular events, and starting to program professional development events.
Empowering Federal Work Study students with knowledge, insight, and experience is both a focus for the Core Services Committee and a personal goal for Komoroski, who worked as a Project Manager at Mentor before coming to SOC. She sees managing the students who work in the Dean's Office as an opportunity to help them build not just professional skills but professional networks and portfolios.
"We demand a lot in the dean's office," says Komoroski. "Students must dress appropriately, and their demeanor has to be professional." In addition to representing the office to students, parents, and campus V.I.P.s, student workers may be asked to attend events or meetings with the Dean.
Students working in the dean's office have designated roles, but also are part of a creative shop that manages visual displays throughout MGC and develops other design projects as needed. Komoroski strives to assign real-world, resume-building projects that match the student's interests and talents, and provide venues for student workers to meet SOC staff members. During SOC Week, she coordinated a breakfast event for students to sit down with the Dean and other dean's office staff to talk about school, careers, movies, and whatever else was on their minds. She also coordinated a potluck for all SOC Federal Work Study students to meet each other and network with SOC staff members.
How does Komoroski find the energy to juggle it all? "I do it because I enjoy it – I do it for my colleagues, " she says. And SOC appreciates it. "This past year Elizabeth has, on numerous occasions, taken on new responsibilities and stretched herself beyond the boundaries of her job to create a better SOC community. We're glad to have her talent in the dean's office," says Plahn-Gjersvold.