Achievements
Student's Visuals Speak Volumes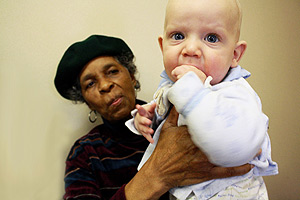 Kyoko Takenaka's first two years at American University have been full of accolades. The latest feather in her cap will also put money in her pocket – a scholarship from the American News Women's Club.
Judges for the award, which has supported aspiring journalists since 1932, were impressed by Takenaka's photographs and short film submitted as part of her application, as well as her plans to utilize the strengths of visual media as a tool for communication. "If the object is communication, then why limit the medium to words?" she asks.
She will receive her award at the 16th Gala and Helen Thomas Award Dinner at the National Press Club on Thursday, June 3.
Faculty are quick to praise Takenaka and her work. Professor Amy Hendrick says, "Kyoko was an exemplary student in my Film and Video Production One. For her final project, Kyoko directed a film that was later chosen to screen at the closing party of the 'Les Lutins du Court-Métrage' Festival at the French Embassy."
Explaining how a Film & Media Arts major with a minor in Graphic Design was able to beat out competitors to win the journalism award, Takenaka says, "Some have a gift for communicating through words, but I have a gift and passion for communicating through visuals, using my strengths and abilities. We live in a visual world where journalism is not only limited to print, and where creative advocacy is in high demand."
Takenaka appreciates that AU shares her philosophy on the power of visuals. "I was so glad to hear that the Film & Media Arts division was under the School of Communication at AU, as opposed to the College of Arts like many other institutions. The other foundation courses for the major have opened my eyes in seeing the arts as a vital tool for communication."
Professor Leena Jayaswal's attention was caught by Takenaka's photography. "I was asked to judge the American Literary Magazine to pick their Best in Show photograph. [Takenaka] had submitted two photographs of her mother, which were just stunning. I immediately was drawn to them and awarded her the Best in Show." It wasn't until later that the two actually met. "[She] showed me her portfolio. I asked her to work for us in the lab and as a freshman she became my teaching assistant for Principles of Photography," something virtually unheard-of for a first-year student.
Takenaka has continued to impress, winning the "best in portfolio" award at the Visions 2010 media festival, the first sophomore to have done so. "I hope to continue challenging myself in the following years," she says. "Awards like the ANWC scholarship are the only reason I am able to attend American University, an institution I have grown to love," she says.