Journalism
International Media Students Learn from Latin American Journalists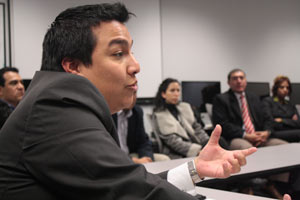 Journalists from 13 countries in Latin America offered their perspectives and experience to first-semester Media Writing students in the International Media MA Program at American University.
The 16 guest speakers were in Washington, D.C. as part of a weeklong series of events organized by the Edward R. Murrow Program for Journalists, a South American regional project, in conjunction with the Bureau of Educational and Cultural Affairs at the U.S. Department of State.  
Encouraging dialogue between seasoned, professional journalists and students is invaluable to education, the IM program's director, Professor Rick Rockwell added, and exposure between two culturally different groups added another dimension to the exchange.  
The IM master's degree, a joint program of the School of Communication and the School of International Service, combines the practicum of a skills-based course with the theoretical concepts of international communication, and was the optimal audience for these visitors, said Rockwell.  
"Each student has a different point of view," he said. "This program is not just for journalism, but a new type of communication, inclusive of international issues."  
Rockwell, who himself worked extensively as a journalist in Central America and Mexico and co-authored the book Media Power in Central America, said that the nuances of journalism were an important distinction to make to fully understand the role of media in each culture.  
"Journalism is different in Latin America than here, but it has different cultures even within Latin America," Rockwell said. "It's important for us to understand those differences." 
In Latin America, journalists face myriad challenges like the legal structures of freedom of expression, or outside pressure from organized crime, or even corruption within their field. 
"A good way of silencing dissenting voices is by creating self-censorship amongst the media," said Eugenio Martinez, a journalist for electoral and democracy issues at El Universal newspaper in Venezuela. "That can be more dangerous, and more difficult to show."  
The students asked what it's like working under such harsh conditions—in Mexico, for example, the number of journalists who have been killed is rising sharply, a concern to the entire international community—and how that impacts their daily goal of providing relevant news to their communities. 
"Mexico is one of the most dangerous places to work, and what we're doing is establishing security protocols both in the field and in the newsroom," said Arturo Lopez Fernandez, an editor for Excelsior newspaper in Mexico City. "When we have imprecise information, journalists are at risk, and to this point, these protocols have worked for us."  
The visiting journalists echoed concerns over the challenging landscape in which journalists struggle to assert their roles, wages, and rights, which the students saw as a unique opportunity to learn about their field in a different culture.  
"We're at a point that you need to learn more about what's going on in the world, not just what's happening to you," said Tara Ashraf, SIS/MA '13. "In this program, you get that opportunity to learn more about how to have a comprehensive approach [to media]."