Social Sciences
Women's Leadership Brings Changes, Says Author
By Adell Crowe
October 12, 2009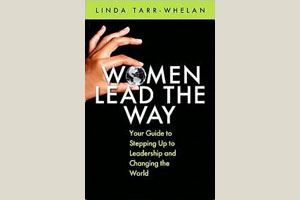 Activist and author Linda Tarr-Whelan's new book "Women Lead the Way" makes the case that more women leaders in an organization significantly change its priorities and management style.
Tarr-Whelan, who served as U.S. Ambassador to the U.N. Commission on Women and is a Distinguished Senior Fellow at the progressive think tank Demos, shared the book's findings with American University students, staff and faculty at an event sponsored by AU's Women & Politics Institute, the Women's Initiative and AU's School of Communication.
While researching her book, Tarr-Whelan said she discovered that when at least 30% of the top leaders of a company, organization or governing body are female "the priorities change and resources are redirected." For example, South Carolina, the state with the fewest women in state and local leadership positions used its federal stimulus money to build bridges, cutting its university budget by 38%. In contrast, New Hampshire, with the most women in office, was the only state to spend stimulus money on higher education, especially on programs to educate women with children.
AU School of Communication Dean Larry Kirkman introduced Tarr-Whelan and Dotty Lynch, SOC executive in residence, led a panel discussion that sparked a number of questions from the crowd.  Panelists included Jennifer Lawless, the new director of the Women & Politics Institute in the School of Public Affairs and student Kyrie Bannar, a Truman Scholar and institute intern.
Lawless said that in America the number of women lawmakers peaked in 1992 when the country ranked 56th in world. Now the U.S. is 85th.  She noted women are less likely to run than men for three reasons: They still shoulder the majority of household and parenting responsibilities; even with identical resumes fewer women than men think they are qualified; and women are 40% less likely to be recruited to run. But, she noted, "when recruited, women were just as likely as men to run."
Tarr-Whelan encouraged audience members to give women  the opportunities and self confidence to move up in an organization.  Suggestions include becoming a "source of confidence" for girls or young women by noticing and praising their work; and knocking down myths that exist about women in the workplace. "When I hear someone say they couldn't find a qualified woman for a job, I know they weren't looking." Finally, she urged the mostly female audience to pursue opportunities. Most women aspire "to do a good job" not to get ahead, she said. "That has to change."