Achievements
Lipman, MFA/'10, Honored for Documentary on Aspergers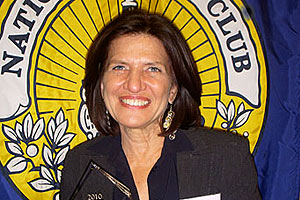 An accomplished documentary filmmaker, School of Communication alumna Lois Lipman has received honors for a piece about understanding boys with Asperger's syndrome, which is an autism spectrum disorder.  
Lipman, a part-time faculty member in The University of Toledo's Department of Theatre and Film, recently received the Television Internet and Video Association Peer Gold Award for Best Student Non-Dramatic Documentary. The Peer Awards are judged by industry professionals who choose the most skilled and innovative individuals of the production community.  
"I felt so fortunate to have been recognized among my peers," Lipman said. 

Her documentary was part of a thesis film she created while attending American University for her Master of Fine Arts degree. The documentary, A Place to Belong: Aspergers and a School, is about two 11-year-old boys who were bullied and never fully understood by teachers. The film follows the boys to a different school created for those who have Asperger's syndrome to allow them to be taught in a safe place and learn self-confidence and communication. With the help of the school, the boys find acceptance. 

Lipman produced and co-directed the film, as well as served as a camera operator. A Place to Belong also received Best Documentary and Best Edited Film recognition at American University's Film Festival and a CINE Golden Eagle for Student Documentary. Her colleague Paul Kim was credited as cinematographer, co-director & assistant producer for his MA thesis as well as Emily Gaine, who was editor for the piece as part of her MA thesis. 

"It is a privilege to select something interesting and go into a new community," Lipman said. "You become touched, changed, and you get to know another world."

Lipman has been involved in documentary production for 12 years and has worked on documentaries for the BBC and 60 Minutes in London. 

During her work for 60 Minutes, she developed more than 20 films around the world on topics that included environmental issues and sustainability, as well as inspirational stories. She received an Emmy for Best Documentary for a 60 Minutes piece about BBC Radio called The Beeb.

Lipman also has received the distinguished Peabody Award for From Harlem to the Barcelona Opera House — Arthur Mitchell and Dance Theater Harlem and the American Women in Radio and Television Best Documentary for the film 'Till Death Do Us Part about dowry deaths in India. 

This story was originally published by Samantha Pixler at the University of Toledo. 

http://utnews.utoledo.edu/index.php/02_21_2011/faculty-member-is-award-winning-documentary-filmmaker