International
Maher Helps Egyptians Share Stories of Revolution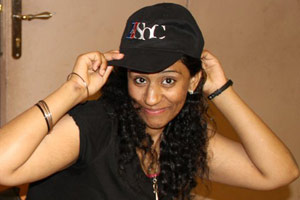 School of Communication professor Brigid Maher visited Egypt in June to teach groups of aspiring storytellers how to create short documentaries and build a following for them using social media tools.
Having made and marketed her own documentary on the sensitive topic of female Muslim religious leaders in Middle Eastern countries, Veiled Voices, Maher has firsthand experience to share with the students on using social media to build a global audience.
"I was excited to see Egyptian students tell unique and unheard stories of the revolution," she said. "[The videos] weren't just about the large protests, but about a woman activist facing obstacles within her family, personal reflections in a teahouse, or a painter's perception of events through art." 
She taught a three-day workshop in Alexandria and a two-day workshop in Cairo as part of a program sponsored by the U.S. State Department. Maher says the workshops gave formalized training to emerging storytellers and showed them how to connect with global audiences.  Students were able to choose their own topics, and several made documentaries about their experiences regarding the revolution in January. Veiled Voices was also screened during the workshop.

In March 2011, Maher traveled to Morocco and taught an animation workshop to a lively group of students as part of a student festival.
"It's great to see that students are still interacting with one another using Facebook, not only as a place to exhibit work and interact with new audiences, but as a place where they can critique and discuss their work," she said.
Maher is director of a new graduate certificate program that teaches digital skills in online social and viral marketing. She says the Internet offers access to niche audiences around the world who are interested in specific topics, allowing filmmakers to sidestep mainstream distributors and create international communities.
"The stories the students are telling have the potential to resonate beyond national borders," said Maher. "I learned so much about the students through their work and I know a global audience will be just as moved."