Achievements
Students Craft Strategic Plan for NBC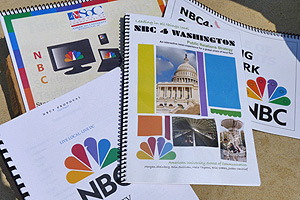 The client was demanding and the task was daunting: create a marketing plan for Washington, D.C.'s major television station that would draw younger viewers.
"I was clearly taking a risk but felt students would welcome the experience and rise to the challenge," says American University School of Communication professor Wendy Melillo. She shouldn't have worried. The students in her Comm 301 Public Relations this semester made presentations that wowed the senior executives at WRC4, the local NBC affiliate.
"Presenting to the station executives was an amazing opportunity," says junior Stacy Hill, one of the five-member team whose project the station selected to implement. "I did not really think I would get such an opportunity in a class."
Sophomores and juniors aren't usually in the position of pitching to high ranking media executives, Melillo says. Such real-world projects are usually designed for upper-level classes. "I knew students would come through in the end. What surprised me was how hungry many of them were for this type of experience so early in our program."
"I'm a competitor at heart and I was in it to win it," says junior Justin La Rocca, also part of the winning team. He said the group started working on the project in early February by becoming familiar with the station's programming, its Web site and its presence on other platforms. "I came up with the slogan 'We Really Connect' from the station's call letters," he says.
Hill says that the team also looked at competitor services and other NBC affiliate stations around the country. "From all this research, we were able to pinpoint what aspects worked for each media offering," she explains. "Doing this allowed us to construct guidelines that ultimately became the strategic communications plan."
La Rocca and Hill say they weren't at all nervous when they gave their pitch to WRC4 officials. "We had spent months developing it, and countless hours scrutinizing the details," says Hill. "We knew this was not just a class project, but a job, in essence. We knew we were dealing with business professionals, and we wanted to make sure we rose to their level."
WRC4 got a detailed and professional marketing plan. But what did the students take away from the experience?
"This assignment made the course seem relevant," says La Rocca. "We had an actual task that produced actual results for a real person. This taught us how to deal with real life people out of the academic world. It was my best experience at AU so far."
There was a lesson in it for Melillo as well. "What I learned from this experience is the need to be constantly innovative in the classroom and to not fear taking risks. If the professor clearly communicates the intended objectives and goals of the project, then this will be a rewarding experience for everyone involved."