Alumni
SOC Hosts Mentoring Program Finale Reception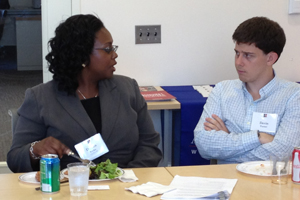 Nearly 50 students plus 15 alumni and faculty were on hand April 21 when SOC's Office of Development and Alumni Relations hosted the annual finale reception for the Alumni-Student Mentoring Program. As SOC graduate student Brian Gleason noted, having Amy Fox (BA/SOC 1998, MA/SOC 2005) as a mentor was "one of the best experiences I ever had. She really opened doors and gave me great advice." Fox is a senior account executive at Edelman Worldwide, a global public relations agency.
Now in its seventh year, the program pairs outstanding SOC students with some of the school's most respected and influential alumni. This year, the Mentoring Program Committee matched 70 students and mentors, and welcomed new mentors to accommodate the large number of student applicants.
For the first time in its history, the program honored 13 alumni who had served for more than five years as mentors. As Matt Swibel, chair of the Mentoring Committee said, "The Mentoring Program started off small and built momentum. Now it's something that all of us can be proud of."
The Mentoring Program isn't content to rest on its laurels. Next year it will have an earlier application deadline to expand the mentoring period from four to six months. Students should watch their e-mail and this site for application deadlines.