Journalism
Research Assistantship Built Critical Thinking Skills, Says Graduate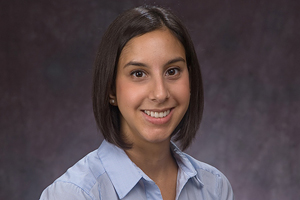 As 2012 American University graduate Monica Arpino steps into her new position as the web producer for The Diane Rehm and The Kojo Nnamdi shows at NPR affiliate WAMU 88.5, she looks back on her year in the School of Communication master's journalism program and her research assistantship at SOC's Investigative Reporting Workshop. 
Last summer, I left my job to pursue a master's degree in journalism at American University for one major reason — I didn't want to be bored anymore.  
Now, after spending the 2011-2012 academic year as a graduate research assistant at the Investigative Reporting Workshop, boredom is no longer a concern. From fact-checking aerial drone stories and researching economic indicators to promoting the Workshop on social media and updating its Wikipedia page, there wasn't a reason — or time — for tedium.  
After six years of working in a variety of government contracting positions, my role had largely shifted to forecasting budgets and preparing PowerPoint slides for the military health system. While that is important and necessary work, it wasn't my long-term career interest. I wanted to learn new things, explore the workings of a newsroom and flex a lifelong passion for writing. 
At the Workshop, I explored those interests and fostered new ones.  
One of my first projects was poring through raw documents, obtained by the ACLU from the Department of Homeland Security. The records detailed allegations of sexual abuse in immigration detention centers, but they lacked order and weren't easily analyzed. I organized and looked for trends in more than 170 complaints. The Workshop and PBS FRONTLINE used the findings in their co-production of the "Lost in Detention" documentary and stories.  
I continued to look at ways that data-driven reporting could unearth newsworthy stories. For the Workshop's ongoing BankTracker project, I updated banking bailout information from the Treasury Department every week. I tracked four decades of manufacturing employment statistics for an upcoming project at the Workshop, and gathered data about the past year's FOIA requests by agency for the Exemption 10 blog. I worked with my colleagues to gather and illustrate historical data about a range of topics linked to the economy, including suicide rates, food insecurity and corporate bankruptcy filings.  
But my research experience wasn't all numbers. I compiled examples of presidential candidates referring to the "American Dream" for a story about whether young people are optimistic about the future. Legal databases led me to court cases about lead pipes and toxins in the water supply. I had the opportunity to train on and review responses from the Public Insight Network, a platform that connects journalists to sources. 
Not only did these experiences strengthen my critical thinking skills, but they also fine-tuned my investigative abilities. I already see how I'll apply many of these experiences in my new position as the web producer for The Diane Rehm and The Kojo Nnamdi shows at WAMU 88.5.

The friends, mentors and colleagues that I came to know at the Workshop exemplified what it means to be a modern journalist. The variety of projects that I worked on reinforced and expanded what I learned in the classroom. Beyond the technical skills, such as copy editing for AP Style and navigating a new content management system, I learned how curiosity, flexibility and resourcefulness are key to quality journalism.  
And there's nothing boring about that.