Government & Politics
AU Launches MA in Political Communication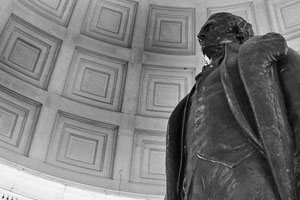 When Dotty Lynch, the former CBS senior political editor and current executive in residence at American University, decided to find the top experts to create a new Master's program in political communication, she didn't have to look very far.
In AU's School of Communication she found speechwriting professors and professionals Lenny Steinhorn and Bob Lehrman, and across campus, Jim Thurber, director of the Center for Congressional and Presidential Campaigns, and Jennifer Lawless, director of the Women and Politics Institute. Lynch, who heads the new program, says it trains students to be better equipped to understand and scrutinize the political process, explain it to the public and serve as watchdogs over campaigns and elected officials.
"We believe we are uniquely equipped to offer courses that explore and examine new media and social networking developments in the field by drawing on political professionals in the Obama administration and Republican and Democratic campaigns who are based in Washington, D.C.," says Lynch, one 15 program professors.
Lynch says the program's advisory board of political consultants, pollsters, media advisors and communication directors who share their experiences with students is a strength.
"So much of American politics today is built on two essential pillars: knowing how the political system works, and appreciating the subtleties and strategies of political communication," she said.
For anyone entering politics, this is a degree that will bestow knowledge, influence and strategic inspiration," says Steinhorn, Public Communication division director and author of The Greater Generation: In Defense of the Baby Boom Legacy."
Steinhorn and Lehrman are authors of the widely read blog PunditWire.
The inaugural group of students began this fall and will take courses in "Applied Political Writing," "Principles of Strategic Communication," "The Art and Craft of Lobbying" and choose from electives that include "Legislative Process" and "Voting Behavior, Elections and Campaign."
"We look at this class like a pipeline," says Lehrman, a speechwriter for more than 30 years for politicians, CEOs and celebrities, and author of The Political Speechwriter's Companion: A Guide for Writers and Speakers. "We want you to get a job when you leave. Washington is not who you know, it's who you get to know."