First Person
Skater's Skills Help High Schoolers Discover Communication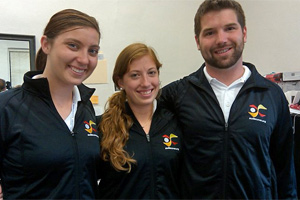 The Series: We reached out to SOC students and recent graduates who are spending this summer advancing their careers through a new job or internship, and asked how they got there, what they're learning, and what advice they have for others. We're sharing the responses in our summer series, "SOC Suits Up for Summer".
Nicole Davies, who graduated in May with a BA in Public Communication and Spanish, has spent three summers working with the Discover the World of Communication summer program for High School students, using the skills she learned in classes to work her way up from a teaching assistant to assistant director. Next she's off to skate for Team USA synchronized skating and to pursue a career in social media. Blending the two, she and a friend developed a website, getitcalled.com, and a related Facebook group as a resource for the synchronized skating community. The site is undergoing a redesign this summer.
Q: How did you find your job?
A: I was a student in Sarah Menke-Fish's Understanding Mass Media class during the spring semester of my freshman year.  I took advantage of her office hours to discuss class assignments and heard a lot about her summer program.  During my sophomore year Sarah directed my Independent Study and I started working on Discover the World of Communication projects.  My Independent Study lead to my position as a teaching assistant that summer, and three years later I'm still here!
Q: What skills that you learned at SOC do you use in your job?
A: I've written press releases, blurbs and letters for DWC using writing techniques and PR strategies from Writing for Mass Comm, PR Writing and PR Portfolio.  Through class I learned about directing my message to a specific target audience and framing the message appropriately, which is important for me to consider when communicating with high school students, parents, professors, teaching assistants, alumni or staff.
Q: What do you think is the most valuable aspect of Discover the World of Communication for students?
A: DWC is an incredible opportunity for high school students to experience the college atmosphere before they have to do it for real.  They experience campus life, including the freedom of no parents, living in the dorms and taking advanced classes.  Our program is also the perfect way for students to explore different fields of study to determine potential college majors.
Q: Describe your job duties/"day in the life" at Discover.
A: On a daily basis I correspond with students, parents, professors, AU staff and other TAs about classes, logistics, processing registrations, media and outreach.  I write blurs and press releases to promote the program, specifically our opening and closing ceremonies as well as our daily video blog.  In the office we schedule the class field trips, after hour activities and guest speakers.  Each session we plan opening and closing ceremonies.  I update our twitter and Facebook pages.
Q: What is the most challenging aspect of your job?
A: The most challenging aspect is balancing multiple projects at once and not forgetting anything, especially during the four weeks when all the students are on campus.
Q: What is the most valuable aspect of your job? 
A: The most valuable aspect is watching the students from the first few days when they are shy and reserved, to the end of the program when they have a new group of friends and confidence in what they learned in our program.  It is literally a life changing experience for some of them, so it's awesome to watch and help them through the process.
Q: What made you trade off "vacation" for an internship?
A: Working for [Menke-Fish] and DWC is so much fun that I don't think of it as a trade off.  DWC enhances my own summer experience because I get to work with a great group of people and be a part of the creation of amazing work.  We also do tons of activities around the city after hours with our students that makes work an enjoyable experience.
Q: What are your plans post-internship?
A: I'm moving to Michigan to skate for Team USA synchronized skating and to pursue a career in social media.  I plan to go back to school in the future and eventually make my way back to Washington, D.C.!
Q: Any tips for others looking for an internship or job in your field?
A: Listen to what your professors and career center advisers tell you...Get involved and network all the time.  Go to events and conferences and stay in touch with people you meet.  Start looking for internships early.