Journalism
Reel Journalism: When Ethics and Morals Collide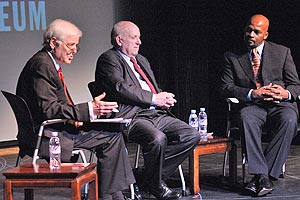 A sold-out audience at the Greenberg Theatre joined First Amendment experts Floyd Abrams and John Watson in a discussion about what should happen when a journalist's ethics and her morals collide.
The fascinating conversation before and after the Washington, D.C. debut of Nothing but the Truth, the first film in the 2009-2010 Reel Journalism series, was led by Nick Clooney, distinguished journalist in residence for SOC and the Newseum.  Clooney posed some tough questions to panelists Abrams, a First Amendment lawyer who appears in the film, and Watson, a School of Communication professor, about the decision by the movie's main character not to reveal a confidential source.
Watson, who has shown the film in his classes, said the movie provides a great example of what happens when one has to choose between acting ethically and morally. Morals, he said, are the guidelines that allow us to live in a cooperative society while ethics are specific to the roles of doctor, journalist etc., that direct how we serve society. "Sometimes our ethics give us a pass on our morals."
Abrams also provided a  behind-the-scenes view of the movie's creation.  He was first asked by director Rod Lurie to serve as an advisor on the film. He said he was stunned one day when Lurie suggested he play the judge. "I didn't even do high school dramatics," said Abrams. But Abrams had a lot to draw on for the part. Not only has he defended top media outlets in numerous first amendment cases, he was also the attorney for New York Times journalist Judith Miller, whose incarceration sparked the idea for the film. "The character's relations with her sources and all the things that make the movie so interesting are inspired by real events," he said. "But they are very far from real events."
Abrams told with the audience that he didn't think Miller got a lot of support for her refusal to name her source because "the public's perception of her was all wrong." And he noted that the main character in the film who goes to prison for more than a year and loses custody of her child for refusing to reveal her source didn't engender wholehearted support either. "In previews, at least 23% (of viewers) said she should not abandon her child."
Sponsored by the School of Communication, the Newseum, and AU's Office of Alumni Programs, the event was attended by more than 80 AU students and 80 AU alumni.  It marked the Washington debut of the film which was completed last year and received a standing ovation at the Toronto Film Festival. But just as the film was prepared for wider release, its distribution company went bankrupt and the movie went straight to DVD.