Achievements
American Observer Wins SPJ "Mark of Excellence" Award
By Rosemary D'Amour
March 24, 2011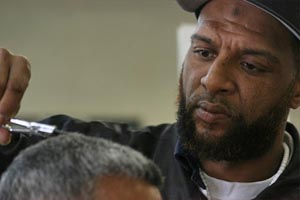 The American Observer, SOC's online publication run by graduate journalism students, has been honored with the Mark of Excellence Award by the Society of Professional Journalists for "A City Divided."
A special edition of the Observer, "A City Divided" discusses the racial and socioeconomic issues that divide Washingtonians, focusing on eight stories in the city.  
Jeremy Borden, The Observer's Managing Editor for the edition, spearheaded the project. Borden said his inspiration arose during coverage of the D.C. mayoral race last fall, which the Merriman Award Winner and Center for Public Integrity Fellow felt were focusing too much on the "horse race" of politics.  
"I wanted to get beyond that by spending time in D.C.'s neighborhoods, getting an understanding of how the larger political themes were playing out on the ground," Borden said. 

What they found, Borden said, was a city divided by more than just politics. "D.C. couldn't have been more divided, in ways that election results showed," he said. "Divided by neighborhood, class and race, in terms of what people wanted for the future of D.C."

The presentation of the project took a different approach from the Observer's traditional format, incorporating an interactive Wordpress blog with photos and video, as well as a roundtable discussion with AU professors and reporters on the issues. 

The innovative design and approach to the story, as well as its strong reporting, drew attention from not just SPJ, but other news organizations as well, resulting in "A City Divided" being featured on DCentric and DCist. 

"I truly enjoy this kind of reporting—getting an understanding of how larger themes play out in our neighborhoods and affect lives for the better and worse," Borden said. "I also learned how truly powerful the Web is in terms of storytelling impact."

Borden said the design, which was executed by fellow journalism students Matt Boyle and Jeremiah Patterson, was a thematic choice. "I came up with the concept in order to show that the theme of division was playing out in different ways across the city," he said. 

SOC professor Lynne Perri is faculty advisor for the Observer, and said that the quality of reporting and presentation was impressive.

"It's what the Observer's all about," she said. "We want to try to get them to push the envelope a little bit, and what they did this semester is bring something new to the table." 

Perri, Senior Editor at the Investigative Reporting Workshop, said special editions of the Observer, of which there are five each year, require a different focus from students.

"The topics are thematic and unique, but involve even more time and work than our students already put in to produce the Observer," said Perri. "This group in particular rose to the occasion; they wanted to elevate their presentation a bit more."

Both Perri and Borden said the recognition of the students' effort was an honor, but not the goal behind the project, which was instead to produce quality journalism.

"It's great to be recognized by SPJ, but honestly I was glad this project got the attention it did when it came out because it started a wonderful, intelligent conversation about the future of the city," Borden said.

The SPJ Award Reception will be held at their Spring Conference April 8-9 in Norfolk, Va. 

Award-Winning Team Members: 
Matthew Boyle, Design Chief Dan Merica, Assistant Editor Kate Musselwhite, Social Media, Assistant Editor Jeremiah Patterson, Multimedia Editor, Assistant Editor Dani Rizzo, Copy Chief, Camera Crew Kathryn Ruleman, Copy Editor, Camera Crew

The following American Observer staff assisted with the production of this edition: Yecenia Alfaro, Samantha Blee, Mimi Brown, Chandler Clay, Kate Coughlin, Kelsey Duggan, Karen Frantz, Heather Fung, Samantha Miller, Bianca Rainwater, Viktorija Rinkeviciute, Karina Stenquist, Annie Stephens and Liz White.