Communications
Social Media Key to Piacente's "Creative Publishing"
By Rosemary D'Amour
September 8, 2010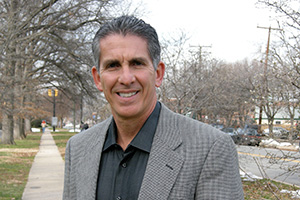 Steve Piacente, SOC/BA '76, has just released his new novel, Bella, utilizing the latest trends in social media in a revolutionary marketing campaign.
Bella, the story of a soldier's grieving widow and the journalist who helps her uncover the real story behind his death, is now available on Amazon.com. After a disappointing experience working with an agent, Piacente decided to self-publish his book, which he says can be an overwhelming process. 
"It's daunting to get out there and capture people's attention," Piacente says. "You have to be creative, you have to work hard, and you have to be a little lucky." 

After teaching Writing for Mass Communication as an adjunct professor at AU for more than a dozen years now, he says that the new media market has changed the way courses should be taught.  
Bella's website incorporates a lot of the technical and writing techniques that students should know how to do, he says.  

By working with a team to create the website from scratch, Piacente says he gained a better understanding of how to reach the audience. The site uses Facebook, Twitter, Google maps, an author's blog, and contains multimedia to engage prospective readers. "It's all circular, every one of these outlets is connected to each other," Piacente says. "There's definitely a technique to doing this effectively; it's not random."

After working more than 20 years as a journalist, Piacente made the transition to fiction at John's Hopkins University, where he received an MA in Fiction. Piacente's decision to begin a creative writing career was based on his experiences as a journalist, speechwriter, and now the Deputy Communications Director for the General Services Administration, one of the largest federal agencies in the country.

"I've always made a livelihood of writing," Piacente says. "I got a 'C' in the class that I now teach. But I tell my students all the time, it's not always about the grade you receive, it's about what you learn."

Thus far, he says, the publishing process has been like a grassroots political campaign, and in many of ways, like a small business. 

"You want it to be engaging, enticing, and before people leave, you want them to buy something," Piacente says. "I like to say I've switched from creative writing to creative publishing."

He says the process will give him a better idea if his book is a success. "It's very democratic, if you think about it," Piacente says. "If I do my job, it's regular people who will decide if this book is worth reading."