Communications
Presidents' Wordsmiths Share Secrets of Success
By Adell Crowe
March 7, 2011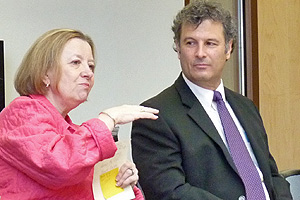 When four former presidential speechwriters appeared together to open the 2011 Speechwriters Executive Communicators Conference at American University, they shared good tips illustrated by great stories.
Chriss Winston, President George H.W. Bush's chief speechwriter urged the group packed into the atrium of AU's School of International Service to "learn to write for your speaker." For her, that meant steering away from emotional stories her boss found too difficult to deliver. In 1989, Winston said, her office wrote a speech for Bush to deliver during a memorial for 47 seamen who died after a gun turret on the USS Iowa exploded.
"The high point of the speech was a powerful moment in which Bush, a former Navy flyer, said he knew what it was like to take off on a mission and return to see empty bunks on the carrier," Winston said. "We were watching the speech on closed-circuit television and I noticed that as he neared this story, he started to sniff. 'I said, what's going on, does he have a cold?' It became clear that he was having trouble keeping it together. When he came to the story of the empty bunks, he just leap frogged over it so he could continue without breaking up." It was devastating to the speechwriter and a lesson, she said, in the importance of sticking to stories her boss could deliver.
The conference, which drew more than 280 speechwriters from around the world, was brought to AU through a partnership between the School of Communication and Ragan Communications. Ragan sponsors the annual conference of corporate and political speechwriters with the Public Relations Society of America. AU School of Communication faculty who direct SOC's new Master's in Political Communication were among the conference presenters. They included Public Communication division director Leonard Steinhorn, who moderated the presidential speechwriter's panel and professors Bob Lehrman and Eric Schnure, former speechwriters for Al Gore. All three are contributors to PunditWire, a speechwriting blog Steinhorn and Lehrman launched in 2010. Carol Whitney, co-program director of the Campaign Management Institute in AU's School of Public Affairs, moderated the panel "What corporate writers learn from political ones and vice versa."
Other tips and stories shared:
Take direction, but don't take it too far: John McConnell, a speechwriter for George W. Bush told the story of being part of a team that crafted a commencement address Bush was to give at Yale. "He said he wanted to use the line, 'You C students here, you too can be president.'" McConnell said. "So we went back and joked and wise cracked and wrote something in that spirit but with a message." When Bush called the writers in to discuss it, he said he was ok with self-deprecation, but two full pages of it was "going too far," McConnell said. "We cut a lot of it."
Listen closely: Clark Judge, who wrote for President Ronald Reagan said the president was always gracious and very measured in his criticism. Clark told the story of receiving a stack of Reagan stories soon after he joined the office. "I was told not to show it to anyone" but Clark said his colleagues would see it on his desk and ask about it. Before long it was all over the office. Soon afterward, the speechwriters were called to the White House to talk about a draft of a speech. Reagan started by saying, "Well boys, this is a great job but we have to ship you a few new stories." Judge said it was Reagan's way "of telling us to back off on the use of the stories," said Clark.
Don't try to outshine the speaker: Jeff Shesol, who wrote for President Bill Clinton, said he and his fellow speechwriters were always trying to write memorable lines that could be used as sound bites by the media. But Clinton didn't like them and wouldn't use them. "It was tricky," Shesol said. "We were trying to write sound bites that didn't sound like sound bites." Shesol said he thought he had succeeded in slipping a nice sound bite into a June 1998 speech Clinton was to give after signing a bill that provided police more bullet-proof vests. In it Shesol had written a few lines he was particularly proud of. "It went like this, 'The line of fire will always be a dangerous place. But today, we are making it a little less dangerous for those who are brave enough to walk that line.' " 
Clinton delivered the first line, but as dozens of police officers and their families in the audience looked on, added, "It's a dangerous place even if you wear these and still get shot in the leg" before he went on to finish the lines written for him. Shesol said he saw the audience alarmed by the ad lib and sure enough, Clinton's off-the-cuff words made all the sound-bites of the event.