Government & Politics
Simpson Fellows Capture Quotes on the 10th Anniversary of 9/11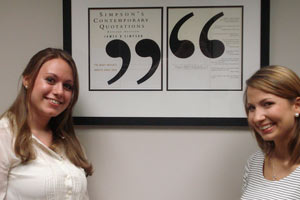 American University Political Communication graduate students and Simpson Fellows Emily Rogers and Carissa Alaimo have completed a research project looking back at 9/11 on the 10th anniversary that will be incorporated into Gannett and Content One 10 year anniversary coverage of the event. 9/11: Then and Now examines the rhetoric used immediately after the event, and follow up to see whether the perspectives of those most involved in the events changed, or didn't change, over the past 10 years.
As part of SOC's ongoing content development partnership with Gannett, the students worked with Political Communication MA director Dotty Lynch and Laura Rehrmann at Gannett/Content One to identify the most influential public figures of the time and design a strategy for quote collection. Letters were sent to public figures, elected officials and citizens with a direct personal connection to the events of Sept. 11, 2001. They were asked to reflect a decade after the pivotal events on a statement they had made immediately after the attacks.
Their report includes "then and now" quotes, including 11 new responses from leading figures including President Bill Clinton, Vice President Dick Cheney 911 Commission Chair Thomas Kean, former Secretary of State Madeline Albright and Senate leaders Tom Daschle and Trent Lott.
The Simpson Fellowship was set up by the family of Rev. James B. Simpson, who published several volumes of quotation books under the name of Simpson's Contemporary Quotations. The Fellowship continues his legacy by collecting and promoting quotations relevant and vital to modern society. The Fellowship includes a major research project, as well as providing daily quotes to punditwire.com, a web site for political speechwriters, started by SOC Professors Leonard Steinhorn and Robert Lehrman.
Alaimo says her experience working on this project was challenging at times, yet highly rewarding. "Trying to gain access to high-profile political figures has many obstacles even for the most seasoned reporters," she said. "As two graduate students with no name recognition or experience, I was uncertain at how successful we would be with the project, but once we started receiving numerous responses, it became clear that the virtue of the project itself was enough for people to want to get involved."
Rogers says the rhetoric in the immediate aftermath of 9/11 was very black and white. "It was us vs. them, good vs. evil. The perspective of 10 years softened this stark speech, but the death of Osama bin Laden reignited this initial moralistic rhetoric in some people," she said. "Yet in general, the 10-year distance led to introspection and tempered rhetoric rather than the instinctual indignation following the attacks."
Alaimo had a great experience corresponding with Kristen Breitweiser, Co-Chairperson of the September 11th Advocates and Member of the Family Steering Committee. Her husband, Ronald Michael Breitweiser, was killed in the 2nd tower of the World Trade Center on 9/11. Alaimo says it was an absolute privilege for her to get to know Breitweiser and learn about her advocacy efforts for 9/11 victims and their families.
"Of all the people we reached out to for this project, I came to admire her the most. Her perspective gave the project an emotional component that only someone who was personally and directly affected by 9/11 could provide. I am grateful for her sincerity and contribution to the project."
Rogers says that she was shocked that the first person they heard back from was Cheney.
"He just replied that he meant what he said then and he still means it now. Very terse," she said. "Also, I had a phone conversation with former D.C. Mayor Anthony Williams, who was very helpful and refreshingly candid."
Alaimo will be renewing the Simpson Fellowship for her second year in the School of Communication Political Communication program and will be graduating in May 2012. Rogers will continue to work on Simpson projects until her graduation in December and hopes to find a job on a political campaign for the 2012 cycle.