On Campus
Snow Doesn't Stop School of Communication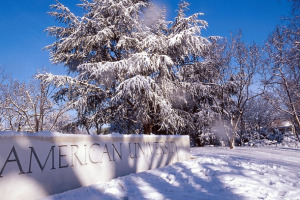 Back-to-back blizzards may have forced the federal government to close, kept city buses off the roads, and generally made life miserable in the nation's capital, but School of Communication faculty and students adapted to the bad weather, using technology to keep classes on track.
Journalism graduate students in David Johnson's American Observer class learned the hard way that they don't get snow days. In fact, it's the journalists who are covering the storm, so even though American University was closed for the third day Wednesday, Johnson marshaled his troops – albeit online -- to produce the online magazine.
Students worked from home, editing and producing. Johnson invited faculty to join the virtual classroom via Twitter and the Google site where the editorial budget and workflow were tracked.
Students and fans also kept up with the class through Johnson's Ustream channel. He, too, was working from home and noted that viewers could catch glimpses of his "crazy kids" on his office Web cam.
The new Observer was up at 12:30 p.m., more than an hour before the deadline.
Other faculty were using Blackboard to post assignments.
Students in Chris Lawrence's How the News Media Shape History class answered questions she posted on Blackboard and are looking for current examples of muckraking to post on the discussion board.
Adjunct Kimberley Williams also sent her Visual Literacy students to Blackboard for snow day assignments.
"My students send all their work to me via their blogs or e"-mail.  All is well," Williams says.
And Professor Kyle Brannon, who also teaches Visual Literacy, says he's told his students that all assignments are still due and can be sent via e-mail or blog.
"I'm in contact and keeping them moving," Brannon says.
Many SOC faculty took advantage of CTRL training last fall in preparation for shutdowns because of the H1N1 flu epidemic. Even though that didn't happen, the skills they learned are being put to use this week.
Professor Joe Graf is teaching Internet Advocacy and had already planned to have this week's class session done online. He used Wimba, a program for real-time class meeting that the University purchased last fall.
Graf and other faculty helped their colleagues this week with some spur-of-the-moment technology training.
"Joe Graf helped me navigate the Wimba virtual classroom," writes Professor Darrell Hayes. "I conducted a 30-minute session with my Crisis Communication folks that included 'Hayes Live' via video, PowerPoint slides and even a YouTube Video link."
Students in Professor Angie Chuang's Race, Ethnic, Community class turned to Blackboard for assignments while Chuang held virtual office hours on GoogleTalk so students could talk individually about their upcoming assignments.
Dotty Lynch's Political Communication students did on online roundtable discussion with more than 80 posts.
Adjunct Rick Horowitz, who commutes from Milwaukee to Washington every week to teach Opinion Writing, knew early that he wasn't going to make it and made plans for Blackboard assignments and discussion.
One student, who was stuck in California, appreciated Professor Wendy Melillo's electronic PR Writing Class.
"Here are my assignments all the way from California. I appreciate the effort to keep on trucking with all this," wrote Theresa Odisio.
Faculty weren't the only ones working during the storm.
Adell Crowe trudged through several feet of wind-driven snow from her AU Park home this week to help the food service staff. On Wednesday, she was preparing and serving up salad for hungry students. Crowe is the Events Coordinator for SOC's Strategic Partnerships and Programs.