Alumni
SOC Alumni Give Tips on Life After AU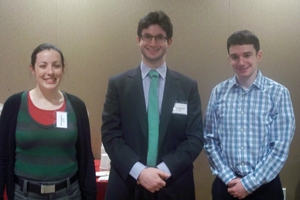 To kick off SOC Week, three recent SOC alumni returned to campus to speak about life after AU, and gave students advice about everything from finding a job and interviewing to living independently after graduation. The panel included Ethan Klapper, (SOC/BA '11), Politics Social Media Editor for the Huffington Post; Jeremy Diamond, (SOC/BA '09), a post-production coordinator for Discovery Studios; and Jett Choquette, (SOC/BA '12), a Health Communications Associate for IQ Solutions.
To secure a job that not only provides an income after graduation, but also incorporates the experience and expertise gained during students' college careers, each panelist stressed the importance of networking and maintaining connections. Both Klapper and Choquette got their first position through the help of a contact from a previous internship.
"It's not just your network that matters. It's also about the people you know and their networks. If you do a good job they will recommend you," Diamond said.
Choquette also stressed that small, personalized gestures, like leaving a thank-you note after an interview, could give an applicant an edge over his or her competition.
"Send thank you notes or emails by the night that you interviewed," she suggests. "You can even have them ready to hand to the secretary [on your way out]."
Klapper reminded students to also focus on getting "the right job," and to not forget to consider what will make them happy.
"You're under a lot of pressure to do the best you can," says Klapper. "So you have to really love what you're doing because you come home from work every night and you're exhausted."
Each alumni panelist uses a variety of skills taught at SOC on a daily basis, from film production to blogging and navigating the world of social media. However, the most vital skill, they all agreed, is strong writing.
"Writing is very important. You have to be able to write good emails, blogs, memos for your boss, or research," says Coquette. "And it really helps if you can write quickly."
A dedicated and competitive work ethic is also vital to not only finding a job, but maintaining a strong presence once you arrive.
"The most important thing to do is to outwork everyone," says Diamond. "If you are always the go-to person there or if you were to leave and people wouldn't know what to do, then you are in the right place."
The opportunities that these alumni have created for themselves are challenging, but also extremely rewarding. In a time when many students are just hoping for a paying job after graduation, having a chance to work in their specialized field is a valued opportunity.
"One of the best parts of working in journalism is walking into work every day and not really knowing what to expect," says Klapper.
For students whose graduation is on the horizon, Choquette offered a few words of wisdom regarding the stressful process of finding a job and taking part in the "real world."
"Believe in numbers –if you put yourself out there, you will get something eventually. If you don't get any interviews or offers at first, just keep going. Be confident in your network. Apply to first choices first and then broaden out," she says. "And prep for your interview! Practice, practice! And don't lose hope."