Journalism
TBD.com Taps SOC Alumni Talent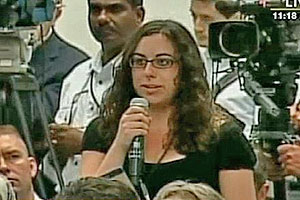 TBD, a new Washington, D.C., regional multi-media news operation that includes a cable news station, a website and mobile apps is generating a lot of buzz.  TBD General Manager and AU alum Jim Brady will be at American University's Katzen Arts Center Tuesday, September 21 to celebrate the summer launch of TBD and a partnership between TBD and the AU School of Communication.
One of TBD's breakthrough strategies is its reliance on established local bloggers for breaking news and community coverage. Prior to launch, the company vetted hundreds of metro area bloggers, looking for the best to feature. It's no surprise that some of the bloggers selected are Brady's fellow SOC graduates.
Ladan Nekoomaram, SOC/MA '10,  from Carmel, Ind. covers foreign policy for her blog, D.C. Foreign Policy.  Rachel Levitin, SOC/MA '09, from Chicago, covers sports for WeLoveDC.com
Both responded to a few questions about their blogs and working with TBD.com
Q: How did you get started with your blog?
Nekoomaram: I decided to start my blog because I found that a lot of material that I was collecting for my internship at Radio Free Europe wasn't fit for the site, but would interest people who care about the international scene in D.C. Through that internship I became acquainted with many prominent international think tanks in town and I found myself going to these events out of genuine interest rather than for work.
Levitin: I started writing for WeLoveDC because I needed an outlet for my writing.
Q: Why do you enjoy blogging?
Nekoomaram: D.C. is such a great place for international activity, and not many people view it as "local" news. While I'm the only one manning the site right now, I would ideally love to draw in experts from these groups, community leaders from different international backgrounds and students studying international relations.
Levitin: I've interviewed two Hall of Fame baseball players, played trumpet on a live stage with a full-fledged funk band, and have been to more Major League Baseball games than I can count all in the span of 10 months. That's what journalism is. You take your passion, combine it with writing, and then you get to have all the fun you want.
Q: What has been your experience with TBD?
Nekoomaram: The TBD staff was very warm and inclusive when I went to one of their local blogger events which made me want to promote them and get involved as much as I could. They are very open to young people with big ideas, which is hard to find in a field where experience is king. As for the blog, the traffic definitely went up because of TBD's endorsement. But it's still in the early stages, so it's up to me to keep it alive and thriving. 
Levitin: TBD approached the editors of our site and asked us to be among the first eight blogs in the community network. It was nice to see the Welovedc.com logo posted proudly on another news outlet in town. It's affected blog traffic to the point where it accounts for about 7-10 percent of daily traffic.
Q: How did AU prepare you for blogging and media changes
Nekoomaram: AU is well-connected with people who understand where journalism is going and what needs to be done to stay ahead. AU has helped me think of how to market myself in journalism today with new technology, self branding and the web
Levitin: My training at AU prepared me for the constant changes in media. Prof. Amy Eisman is the person responsible for getting me to pay attention to these trends. From her I learned to develop a personal voice. There's a way to report the news in AP Style and still get a well-written story across. Since AU is a small private school, we have advantages that other accredited journalism schools might not – one-on-one attention. It's the most valuable tool any SOC student can utilize.
Q: What do students need to know now to become an effective journalist for a local-oriented blog like TBD?
Nekoomaram: You have to find a need in your community and communicate frequently with your audience. In an environment where people can get information from anywhere, you have to give them a reason to seek you out and give you clicks. You can do this by not only providing coverage of something you see under-covered, but also by showing your target audience that you care about their thoughts and want to engage them in the site. So far TBD has that down.
Levitin: If you want to be an effective journalist for a locally-oriented blog then start asking questions and start venturing out into your city. You won't get a story from sitting on your couch with a bowl of Fruit Loops on your lap while checking e-mail and reading the Post online. The only way to write something valuable is to go out into the world and experience whatever it is you're trying to write about. That's one thing that will never change in journalism.