Student Life
SOC Freshmen Get a Look at Future Careers
By Nicole Cusick
October 1, 2012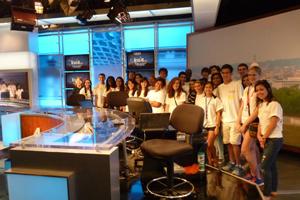 SOC freshman started Welcome Week with a look to their future by exploring four top communication companies in the district as a part of Jill Heitzmann's SOC Leadership and Academic Success class.
The group started with a trip right down the street from AU to NBC4 studios, where the students met with Matt Glassman, an SOC alumnus and adjunct professor who is Manager of News, Press and Programming for NBC4. There they got to watch the live 11 a.m. broadcast with Barbara Harrison from in the studio and control room. Glassman offered students advice about making the most out of an internship opportunity.
Brianna Williams, one of the class members remarked, "One piece of advice that stood out to me was when Matt Glassman said 'in an internship, if you do not make yourself known to at least five people, then it wasn't worth it."
After being dazzled by the production facilities at NBC4 the group took a trip to Farragut Square where they met with John Seng, CEO of Spectrum, a health and science public relations firm. Spectrum's team just moved into their new space in Farragut, and was eager to share with the students. Because the students were less familiar with the Public Communication field, this experience was eye-opening, and they were just as eager to learn.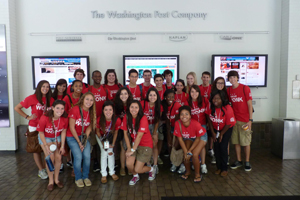 The second day of tours began with a visit to the Washington Post. The group walked through the large news rooms and passed countless halls of editors working away to turn out the next big story. There the students even had the opportunity to speak with Sylvia Carignan, a 2012 graduate who turned her SOC Dean's Internship into an employment opportunity with the Post. Carignan shared some insight about her time at AU and what classes and experiences helped her get to where she is today.
The last stop was the Smithsonian Museum of American History, where they met with SOC Film and Media Arts major Kevin Borow. He spent his last day of his Dean's Internship with the Smithsonian to speak with the group.
In his summer internship he made several videos for a children's science institute. The group was glad to end the two days by speaking with a current student already succeeding professionally while still completing his degree with SOC.
"My favorite aspect of the Welcome Week program was the amount of interaction we had with people working in our fields of interest," said Mark Lieberman, class member. "They didn't just talk at us; they talked with us!"
This program gave the students the opportunity to see exactly where they can be after spending four years at SOC, exciting a new cohort in their first days at AU.