Achievements
Communication Students Take Top University Honors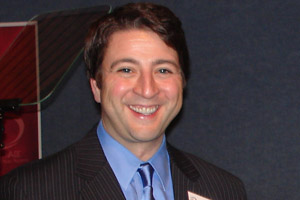 Five of American University's most prestigious awards, including top awards for undergraduate and graduate achievement, will be presented to graduating School of Communication students at this weekend's commencement ceremony. "These students illustrate how SOC combines moral and intellectual inquiry and integrates traditional academic studies with real-world experiential learning and professional practice," said Dean Larry Kirkman.
Ted Roach, who will receive his MFA Saturday, has been selected for the highly competitive Award for Outstanding Scholarship at the Graduate Level, given to a master's or MFA student and a PHD student to recognize exceptional academic accomplishments and scholarly contributions to their fields. Roach has produced, directed and edited dozens of web-based, short documentaries, for companies such as the National Park Service, the Investigative Reporting Workshop, the American News Project and NOAA's Ocean Media Center, while pursuing his MFA in Film. During this time, Roach won two CINE Golden Eagle Awards, four TIVA-DC Peer Awards (including Gold Awards for Feature Documentary Editing, and Best Student Documentary). He also received several student film awards, including being selected as a national co-finalist for the 2010 Student Academy Award. His films have screened in over 30 film festivals, won several festival awards, and have been broadcast internationally. 
Alex Priest, who will be graduating with a dual degree, B.A./B.S., from SOC and Kogod, will receive the President's Award, the highest award for undergraduate students. It is presented to a graduating senior whose accomplishments over the course of his/her undergraduate years are truly exceptional and reflect the highest ideals of American University. Last fall, he founded one of the fastest-growing student organizations on campus, the AU Social Media Club (AU-SMCEDU). With an eye to the future, he's considering starting his own media consulting firm, Hello Media, to ensure that wherever he lands after graduation, he can continue to work on the communication projects he loves.  Priest also won the Bruce Hughes Award for "outstanding service to the University community and unusual depth and maturity in leadership." It was one of three named Student Achievement Awards won by SOC students.
Public Communication major and Senator in AU's Undergraduate Senate, Kathryn Baxter received the Cathryn Seckler-Hudson Award for "character and achievement and significant contributions to student government."  Kathryn interns with such human rights organizations such as D.C. Women's Agenda, an advocacy and policy coalition that promotes the equality, health and well being of women and girls in the District, and GLSEN, the leading national education organization focused on ensuring safe schools for students. Amy Chin received the Harold Johnson Award for "promoting understanding and acceptance of cultural and racial diversity."
Chin served as the director for programming and as an elected vice-president of Student Advocates for Native Communities and worked as a Washington Institute for Native Students (WINS) Intern. WINS provides professional development and cultural experience for native students.
Dean Kirkman said "Kathryn Baxter and Amy Chin leave a legacy of diversity that realizes our shared values of human rights. Their awards reflect the ideas and ideals of leadership and community that are core to our mission."