Communications
Social Learning Summit Showcases SOC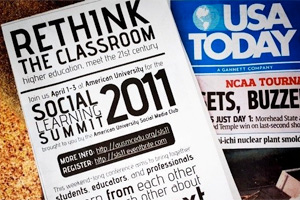 School of Communication faculty members and students were key to making last weekend's Social Learning Summit 2011 a great success.  American University Social Media Club, the group that organized the event, is led by SOC students and professor Lauren Feldman, its faculty advisor, teaches public communication for the School. Feldman and SOC colleague professor Scott Talan were both heavily involved in the conference.  Over 300 attendees ranging from longtime communications professionals to those just beginning careers saw SOC's expertise on display on fourteen panels considering topics from "Social Media on Camera" to "The Connected Classroom".
Beginning with the keynote panel, which discussed the current state of higher education and the innovative ideas being promoted and adopted marrying  education with social media and technology, SOC demonstrated its breadth of knowledge. Students Alex Priest (@alexpriest), President and Founder, AU Social Media Club  who will graduate with a BSBA from Kogod and SOC in May, and Jon Hussey (@auwebmanager), Manager of Web Communications, American University, who is pursuing his MA in interactive Journalism were joined by recent social media convert professor Rhonda Zaharana, whose blog post about conducting a class on Facebook received over 30 million views, and professor Scott Talan (@talan) whose interest and expertise in social networks and media builds on a career that has included work in media, PR, and communications for TV News, Politics, Nonprofits and Higher Education.
Public communication student Katilin Carpenter was a panelist for "Becoming Budding Bloggers", which explored the how and why of blogging for today's students, and explore how blogging itself can be used to learn from each other and with each other.
The "Slacktivism or Activism? Liking Our Way to a Better World" panel looked at the notion that online activism and protests are somehow less valid than the marches and sit-ins of yesteryear.  A leader in the area of online politics, SOC adjunct professor Alan Rosenblatt (@drdigipol), Ph.D., Associate Director for Online Advocacy, Center for American Progress Action Fund joined speakers from M+R Strategic Services, USA Today and the Bivings Group.  Rosenblatt also spoke on another politically-themed panel, "The Facebook Candidate: Public Lives in Public Office".
In another panel, student Miranda Gale (@mirandagale), Director of Online Operations, AU Social Media Club, took on the social media generation gap – and whether one really exists. She was in impressive company, with co-panelists Debbie Weil (@debbieweil), Social Media Consultant, who was named one of the Most Influential Women in Technology in 2010 by Fast Company, and Alejandra Owens (@frijolita), the Managing Director of AARP's blog.  Gale will be graduating with honors in May, with a B.S.B.A. in Marketing and a double major in Public Communication.
Amanda Zimmer (@ayeemzee), VP of Communications, AU Social Media Club, a junior currently working towards a BA in Broadcast Journalism with minors in Marketing and Multimedia Studio Art  moderated "The Child Named Facebook: Social Media and the REST of the World". That panel took an international perspective on social media, including the recent revolutions in  Egypt, Tunisia and Libya. Public Communications professor Pallavi Kumar, (@pdkdc) was one of the panelists. An AU alumna, Kumar has more than 15 years experience in public relations. Most recently, she worked at Fleishman Hillard as a vice president in their social marketing practice.  Joining Kumar was SOC student Nicole Pulley, (@nicolepulley) who is the Marketing Program Associate at the Fair Trade Federation.
Megan Ackerman (@MissMeganEmily), Vice President, AU Social Media Club, moderated "Tweet Your Way to the Top: Social Media and the Job Search", a panel that included professor Scott Talan, who discussed strategies and stories of how social media can impact your future career with the Senior Editor of Monster Careers and the social media lead at CorpComm, Inc. The topic is of special interest to Ackerman, a senior working on her BA in American Culture and Media, an interdisciplinary study she created which combines Broadcast Journalism, Public Relations, and American Studies. Ackerman was also a panelist for "Where Do You Draw Your Line? Defining TMI on Social Networks".
Student Greg Saperstein (@gsaperstein), helmed the "Social Startups: Startups and Social Media" panel, which included a number of local entrepreneurs, including Allen Gannett (@allengannett) of Splash Networks, Andrew Bates (@andrewbates) of EyeTraffic Media, and Peter Lamotte (@peterlamotte) of GeniusRocket.
Faculty for SOC's political communication and film divisions joined student moderator Megan Ackerman for "YouTube, Vimeo and Vevo, Oh My!: Social Media on Camera". Caty Borum Chattoo (@CatyBC) is a communication professional with multifaceted expertise in social change communication, integrated media campaigns, and documentary film and television production.  In addition to teaching public communication at AU, she currently serves as a consultant to independent broadcaster, Link TV, on its next-generation social-change documentary platform, ViewChange.org.  Film professor Larry Engel (@engelfilm) is an Emmy award-winning producer, writer, director, and cinematographer with more than thirty years of filmmaking experience spanning all seven continents.
Talan took a turn as moderator for "The Connected Classroom", a panel that showcased ideas and innovations incorporating social media and technology into today's modern classroom.
Andrew Pergam (@pergam)  from SOC's J-Lab: The Institute for Interactive Journalism joined journalism professor David Johnson (@darthcheeta) and student Nicole Pulley for "The NEW Media: Journalism in the Social Age".  This panel took a look at how social media is--and has already--revolutionized the journalistic landscape. Johnson specializes in digital journalism, interactive storytelling and convergence media. He is also a founding member of the Media Bloggers Association. Pergam is an award-winning journalist and is now editorial director at J-Lab. A former television reporter and digital newsroom leader, has taken a keen interest in local online news and the future of journalism as a whole.
"A Social Bill of Rights: Civil Rights and Social Media" was moderated by Ben Loeb (@loebben), Treasurer, AU Social Media Club. Loeb is a sophomore studying Marketing and Public Communication at American University. He has worked in a number of different communications and marketing outlets including a congressional office, political action committee, and marketing agency.
SOC alum Matt Rhoades (@borderstan) was a panelist for "Blogging the District: How to Be Hyperlocal". Rhoades is the editor and co-founder of Borderstan.com. He and his husband, Luis Gomez -- who is the co-editor -- founded the site in August 2008. Borderstan covers the Dupont-Logan-U Street area with a team of eight contributors and three editors. Rhoades works in the corporate communications sector by day and holds a master's degree in public communication from American University.