Communications
Capstone Shines New Light on Diabetes Coverage
By Rosemary D'Amour
March 4, 2011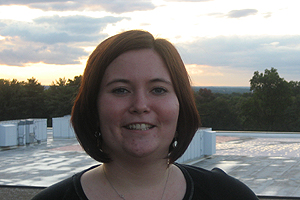 Kelsey Stefanik-Sidener's capstone project on the media's structural bias on diabetes will be presented at two conferences, is in the early stages of being published, and has earned praise from her advisor. "The final project really blew me away," public communication professor Lauren Feldman says. "There is no comprehensive research looking at diabetes and how it is portrayed in the media; she's really filling a void in previous research literature."
"AU really has such tremendous resources," said the SPA senior. "Students can find the path that best suits them."  
Through her coursework, Stefanik-Sidener crafted her degree in Political Science to include a specialty in health communication and policy, something that holds a personal connection for her. A Type 1 diabetic since she was seven years old, Stefanik-Sidener has been involved with health advocacy on several levels—volunteering, attending speaking events, and most recently, interning with the American Diabetes Association. 
It was her work with ADA that piqued her interest in how the media portrayed diabetic issues. "Part of my work at ADA is following media coverage of diabetes," she said. "What I had found in reading a lot of these articles was that they didn't quite show a full understanding of the disease, and the oversimplification of the issue really frustrated me."

When the opportunity arose for her to do research as part of an Undergraduate Summer Research Fellowship, Stefanik-Sidener, a Truman Scholar, built on her experience with examining media framing in SOC professor Lauren Feldman's Communication and Society class. 

"We examined how different frames change the way the public perceives an issue," Stefanik-Sidener said. And when it comes to health issues, particularly those often misunderstood like diabetes, this can have significant impacts on public opinion and policymaking. 

"There's so little emphasis on broader societal forces at work," Stefanik-Sidener said. "It gives people a skewed view on how to address diabetes." 

She developed her capstone project as an extension of her 2010 summer research fellowship. She chose to conduct a content analysis of ten years' worth of relevant articles from the New York Times' coverage of diabetes, and coded them into three parts: whether the author distinguished between the three types of diabetes (Type 1, Type 2, and Gestational), the frames used in each article (emphasis on the individual, a broader societal context, and medical explanations), and which of the frames was most prominently featured. 

Stefanik-Sidener's paper will be presented at the National Conference for Undergraduate Research and Eastern Communication Association's Undergraduate Scholars Conference, where it was rated as one of the top four submissions.

"I'm really excited," she said. "The opportunity to present my research will be a great experience, and a great way to reach people and get feedback." 

Feldman, Stefanik-Sidener's capstone advisor, said that her work was extensive and was in the first stages of getting published, and said that her former student had used her passion effectively.

"I'm in awe of the way in which her passion resonates in all that she does, in her coursework, her personal activities and professional aspirations," Feldman said. "She's an absolutely extraordinary student."