Communications
Storytelling for Social Change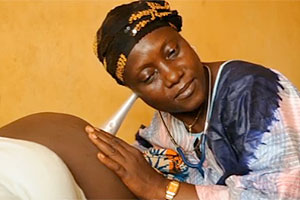 Caty Borum Chattoo is changing the way we think about strategic communication and documentary storytelling.  The School of Communication professor's latest project uses an innovative approach to advocacy communication: Turn a statistic-heavy report about maternal health and wellbeing into a compelling digital drama made up of stories about real women impacted by their countries' policies. 
Chattoo co-produced the new TV documentary, ViewChange:  The Mothers Index, a unique collaboration in "global development storytelling." The show – produced for non-profit broadcaster, Link TV, in partnership with international development organization, Save the Children -- is part of Link TV's ViewChange.org project that combines global development progress stories and direct action.  The half-hour documentary includes stories from the ONE campaign's Living Proof series and is based on Save the Children's just-released 2011 "State of the World's Mothers" report, which ranks 164 countries on women's access to health care, education and opportunities.
Her background producing documentary film, TV, and short-subject advocacy videos for groups including the AFL-CIO, California Nurses Association, ICLEI USA, YWCA, and others served her well on the project, as has her willingness to embrace the changing media landscape.
An expert in the emerging field of "advocacy journalism," she helped shape a recent conference on the topic, Advocacy Journalism in the Digital Age, at the Newseum. Chattoo is also a proponent of social media, both as a public and social change communication tool and as an educational one.
"I have always been a firm believer in the idea that innovative social change communication combines solid facts and research with compelling stories," said Chattoo.  "It's a fully integrated approach that incorporates action-oriented messages, evocative imagery, and a campaign approach to raising awareness – and hopefully moving people to action.  And it's an approach that's integral to media in the digital age, of course."
The promotion of the project is also novel, in that it is focused primarily on an online audience. The film premiered online before it will air on Link TV (on May 6 and May 10) , and Chattoo has been blogging about the project for sites like Huffington Post, MomsRising.org and Alternet.
It's a strategy that is paying off.  Top global development groups like InterAction and ONE have promoted the special program through their own blogs, embedding the full show, with key advocacy messages and suggested action items woven throughout script and storyline, to a broad audience. With the help of next-generation semantic Web technology, the ViewChange.org videos are linked directly with the latest news and most recent social actions so that users can search for specific topics, watch real stories from around the world, learn the latest news (from more than 12,000 news sources around the world) and take action. 
Chattoo brings the same spirit of innovation to the classroom.  Her course, Entertainment Communication, is anchored by an interview series Chattoo shot over a week in LA with a wide variety of subjects who work in television, film, music, documentaries, public relations, promotions and more. "The business of entertainment is not like ordinary business – it is its own world of creativity, entrepreneurial spirit, and talented, smart characters," says Chattoo. "I felt like it was important to really bring the Hollywood world to life by bringing a little bit of it right into the classroom," she adds. 
Watch ViewChange:The Mothers Index on Link TV Friday, May 6, 2011, at 7 p.m. EST, 4 p.m. PDT or Tuesday, May 10, at 11 p.m. EST, 8 p.m. PDT Or watch online at ViewChange.org