Journalism
New Course Puts Students Front and Center at the Newseum
By Michael Wargo
April 5, 2012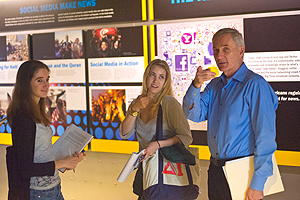 Students enrolled in a new SOC course taught by Professor Rodger Streitmatter are taking the Metro downtown to the Newseum for six of their class sessions this semester.
Streitmatter says he created Media @ the Newseum because he wanted to take advantage of the fact that the campus is just a metro ride away from the only museum of news in the entire world.
"I built the course around the themes of news history, news ethics and news technology," he said. "During our sessions on campus, my students and I discuss books and articles about these topics, and then when we go to the Newseum, we visit exhibits that reinforce these exact same themes."
SOC has a rich seven-year partnership with the Newseum that is showcased in many ways, including Reel Journalism, Dean's Internships, academic fellowships and the co-sponsoring of conferences and symposiums.
In a recent site visit, Streitmatter had his students view the exhibits in the Internet, TV & Radio Gallery, taking notes on the exhibits for their written assignment for that day. Students also visited the "Every 4 Years" exhibit, featuring Saturday Night Live political satire memorabilia, photos and video; the Today's Front Page exhibit and the exhibit on the car where journalist Don Bolles was killed.
Junior Nicole Federica says the course is incredible for many reasons, but particularly the way it takes advantage of a truly unique asset to the city, the Newseum. "I look forward to class every Wednesday," she said. "The professor is truly engaging and uses the Newseum as a vessel for investigation and research, using the exhibits almost as a living textbook."
Senior Amy Doggett agrees that the class is a unique experience. "I had been to the Newseum before signing up for the class, but there is so much material there that it is great to be able to go on more structured visits," said Doggett. When they're not at the Newseum, Doggett says they are in class, engaging in interesting, sometimes controversial, discussions about various topics concerning the media.
"It's nice to get out of the classroom and experience how our lessons work in the working world," said Joe Kennedy, a senior in SOC. "Professor Streitmatter has created a learning experience different than anything in my entire AU career."
Streitmatter says a lot of people are very gloomy about journalism today because newspapers are laying off people and struggling to survive economically, but his students, who are all communication majors, are generally upbeat about their futures.
"I credit this at least partly to what they've learned in my course. They've seen, through the exhibits at the Newseum, that journalism has been through tough times before," said Streitmatter. "They don't necessarily see themselves working for newspapers or TV stations, but they're looking forward to working for websites and online publications—or for other platforms that don't even exist yet."