Achievements
Student Presents at Social Science Conference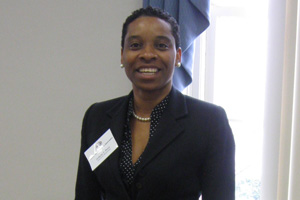 Arliene T. Penn, a graduate student in American University's Public Communication program, won a spot in the Annual Virginia Social Science Association Conference to present her work on West Africans and African Americans Connecting through Hair Braiding in the Columbia Heights Community.
The VSSA conference brings together students, faculty and independent scholars from across the state and beyond. The presentations and panel discussions embrace every discipline in the social sciences.
Penn will give her ethnographic presentation on Saturday, March 27 at the Virginia State University in Petersburg, Va.
She completed the research in spring 2009 during her senior year in the School of Communication's Print Journalism program as an assignment for Race, Ethnic and Community Reporting.
Penn studied the social engagement and transference of culture between both West Africans and African Americans using observation and personal interviews to understand the subtle learning behavior.
"I am thrilled," Penn said. "Not only is this an opportunity for me to inform other scholars about what I have learned, but it's a way of telling others that cultures should not be viewed as a monolithic whole or as one-size-fit-all because we are different and unique in our own way."
Professor Angie Chuang, who developed the course in 2008, focusing on race issues, endorsed Penn's submission. Chuang said, "Arliene's project combines the best of both worlds: sound academic research and the real-life insights gained from journalistic interviewing. Her original and thought-provoking project epitomizes what the class and SOC are about—on-the-ground community reporting."
She added the journalism industry would call Penn's work "shoe-leather" reporting, a concept that doesn't come from a book.
"I applaud her for investing countless hours pounding the pavement of Columbia Heights, honing her powers of observation, as well as applying her interdisciplinary understanding of culture and identity to hone in on the idea of hair braiding as a bridge between West African immigrants and African American women," Chuang said.
Chuang added that Penn was one of the top students in the class and received commendations for her outstanding accomplishment.
This is Penn's second presentation at the conference. In March 2009, Penn presented her work on "Calypso: Hear their voices through social and political commentary", a paper challenging scholars to listen to the cultural art form to better understand how people are affected by societal development.