Communications
PR Students Work to Honor a Fallen Journalist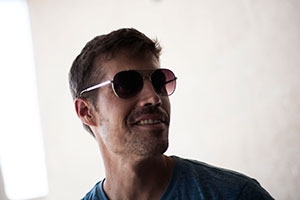 As Commencement approaches, most seniors begin to mentally prepare for the real world, but students in a PR Portfolio class get to tackle it head on.
SOC Professor Gemma Puglisi's class gives students the opportunity to work with non-profit organizations to develop comprehensive communication campaigns that will bolster the organization and advance its mission.
This semester, Puglisi is very proud that her students will be working with the James W. Foley Legacy Foundation.
James Foley was a journalist who was abducted in Syria while working as a freelance war correspondent. In August 2014, Foley was the first American citizen killed by the Islamic State of Iraq and the Levant (ISIL).
The project came to Puglisi through Foley's cousin, Marcy Palus, a colleague and friend of the professor's. Puglisi had not known that the two were related. "We were e-mailing over the summer, and she sent me a message informing me that the young journalist killed by ISIS was her cousin. She was devastated and wanted people to know what an incredible person he was."
"I couldn't stop thinking about James and his family—and how difficult this must have been for them. One thing led to another, and I asked Marcy if she could connect me with James's parents, Diane and John. She did…And literally one week before spring classes began, it all came together."
When Puglisi told her students they would be working with Foley's family who created the Foundation, they were truly moved.
"I had a couple of students at the end of that first class, that actually came to me and said 'Thank you for bringing this project to us,' she shares. "When they saw the website and the message that the parents wrote, 'His (James's) life challenges us all to love and forgive one another, and to make this world a better place,' they were inspired."
The students are working in several teams; one group will focus on social media/traditional media; the second will compile a report on policies for hostages as well as the impact that free-lancers play in reporting news and the risks they take with little or no protection; a third team will be working on a survey along with students from Northwestern University, Medill School of Journalism, the graduate school Foley attended, while a fourth team will be planning events on campus to discuss the dangers of freelancing and US policies for hostages. The first event at AU will be on February 26th with Professor Bill Gentile, who traveled with the 24th Marine Expeditionary Unit in Afghanistan in 2008. The event will also feature images of Foley's work.
Puglisi and her students will kick off the semester by attending a special Newseum event on Wednesday, Feb. 4, featuring Diane Foley and Debra Tice [mother of Austin Tice, another American Journalist kidnapped in Syria] who will participate in a conversation with "PBS NewsHour."
And on April 23rd, SOC's Charles Lewis and his Investigative Reporting Workshop will host a public conversation at the National Press Club with the Committee to Protect Journalists and other organizations, to honor James Foley and other recently slain reporters, and to explore the best practices for news organizations when hiring freelance journalists to cover overseas conflicts.